Thursday, December 19, 2013
Grizzlies encouraged to vote for OU finalist in NFL contest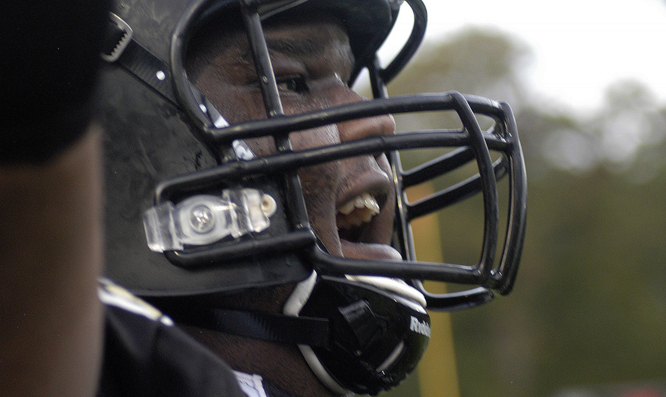 Oakland University graduate student and club football player Christopher Harris is one of 10 finalists in the Together We Make Football contest.
By Eric Reikowski, media relations assistant
The clock is ticking to cast your vote for Oakland University's own Christopher Harris in the National Football League's "Together We Make Football" contest at
togetherwemakefootball.com
. Voting will remain open through Monday, Dec. 23, and the winners will be announced during the NFL playoffs.
Last month, Harris was named one of 10 finalists in this interactive campaign that invited fans to share inspiring stories about why they love the sport. The top five vote-getters will be honored in New York and New Jersey as part of Super Bowl XLVIII and will also be showcased in an NFL Films documentary about the contest.
Selected from thousands of entries, each finalist starred in a short video chronicling the impact of football on their lives. Harris' spot focused on his battle with mental illness and the role athletics played in helping him overcome his struggles. He shared his personal story and took the opportunity to spotlight Oakland's campus community and long-awaited club football team, of which he is a member. An NFL Films crew visited campus to interview Harris and also traveled to Ohio to capture footage of the team's season finale.
"I mentioned our new club team and how it is the first full-contact football team in our beloved university's 57-year history," said Harris, who is pursuing a master of arts degree in counseling. "I also spoke about the beauty of the campus and the people who work and live here … how it was instrumental in my recovery."
Clips from the video were featured in a nationally-televised NFL commercial that aired during the league's annual Thanksgiving Day games and the short film is currently airing during games throughout the month of December.
Since being named a finalist, Harris has also been featured in a
DetroitLions.com story
, and he served as an honorary captain for the team's Monday Night Football showdown against defending Super Bowl champions the Baltimore Ravens. He was on the field for the coin toss before the start of the game and was interviewed during WXYZ-TV's pregame show. The Detroit native told a national audience how playing football and studying at Oakland helped him refocus his life. He says he feels a duty to be an ambassador for the community that embraced him when he needed it most.
"Ever since I came to campus, I've felt comfortable and at home," Harris said. "The people here are just so warm and welcoming. They embraced me not even knowing the struggle I had been in, and I'm very thankful for that. I feel an obligation to tell as many people as possible how great our community is."
Oakland University is a vibrant academic community with more than 20,000 students and more than 260 degree and certificate programs. To learn more about academics, achievements, and events at OU, visit the news site at
oakland.edu/newsatou
and follow the news team on Twitter at
@OaklandU_News
.
The clock is ticking to cast a vote for Oakland University's own Christopher Harris in the NFL's "Together We Make Football" contest.

Created by David Groves (groves@oakland.edu) on Thursday, December 19, 2013
Modified by David Groves (groves@oakland.edu) on Thursday, January 2, 2014
Article Start Date: Thursday, December 19, 2013