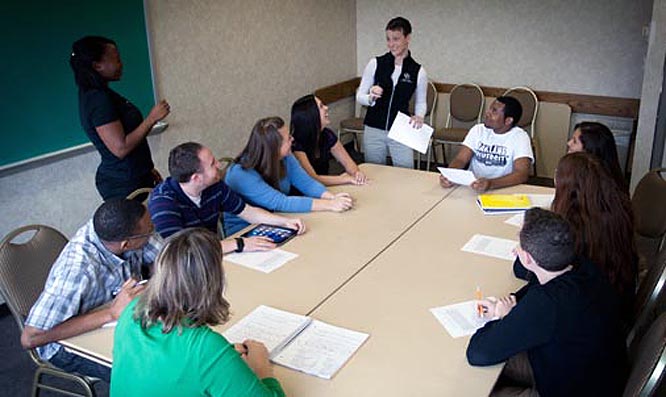 First Year Advising Center advisers discuss academic success strategies and planning on the campus of Oakland University.
By Eric Reikowski, media relations assistant
Members of Oakland University's dedicated advising staff recently celebrated the results of a national survey that showed a significant rise in student satisfaction with the university's academic advising services.
The 2012-2013 National Survey of Student Engagement revealed a 16 percent increase in student satisfaction with academic advising at OU since 2007. The news comes as the university continues to roll out new programs and initiatives designed to improve advising services and help students remain on the path to graduation.
Fall 2012 marked the launch of the First Year Advising Center, which provides advising services for all first-year students, as well as those who are undecided or re-deciding on their major. It also offers centralized major and career exploration services to undecided or re-deciding students and facilitates a variety of first-year programs, including orientation sessions. Each first-year student is assigned an adviser to meet with at least once per semester to review academic progress.
"OU has made a significant investment in the success of our students by taking purposeful steps to improve their advising experience," said Sara Webb, director of the First Year Advising Center. "The addition of the First Year Advising Center has helped new students understand the significance of the adviser-to-student relationship and help them to build a solid connection with the university. We are pleased to see the increase in student satisfaction of advising as one of the key results of these university-wide efforts."
Building on this, the university recently introduced the Second Year Experience program. It was created through a collaboration of Professional Academic Advisers across campus and was one of OU's "
Grand Idea
" winners funded by the President's Office, according to Dr. Krista Malley, senior academic adviser in the College of Arts and Sciences.
"The Second Year Experience helps to provide a seamless transition for students leaving the First Year Advising Center and going to their Professional Academic Advisers in their chosen major," Dr. Malley explained.
"This program is an opportunity to share engagement possibilities with students early in their undergraduate experience, particularly emphasizing engagements within their major. The ultimate goal for the Second Year Experience is for students to have meaningful experiences within their majors and be registered for their third year at Oakland University, helping them get ever closer to their goal of graduation."
In addition, university-sponsored campaigns like "Focus on the Finish Line" help students chart their OU careers by offering advice at each stage, including useful tips on campus involvement, leadership opportunities, jobs and internships, and preparation for graduate school.
"Advising at OU is a team effort from the First Year Advising Center to the Professional Advising Offices on campus," Dr. Malley said. "Working together, we all strive to provide the best advising experience possible for students."
For more information on academic advising at OU, visit the website at
oakland.edu/advising
or contact the First Year Advising Center at (248) 370-3227.
Oakland University is a vibrant academic community with more than 20,000 students and more than 260 degree and certificate programs. To learn more about academics, achievements, and events at OU, visit the news site at
oakland.edu/newsatou
and follow the news team on Twitter at
@OaklandU_News
.
A national survey revealed a 16 percent increase in student satisfaction with academic advising at OU since 2007.

Created by David Groves (groves@oakland.edu) on Wednesday, December 11, 2013
Modified by David Groves (groves@oakland.edu) on Tuesday, December 17, 2013
Article Start Date: Wednesday, December 11, 2013