Wednesday, December 4, 2013
Students meet leaders, learn trends at auto supplier conference
Business students and members of OU's SAE student racing team group Phillip Johnson, Daniel Ellis and Joshua Yasoni joined Professor Janell Townsend in representing Oakland University at the Original Equipment Suppliers Association annual Outlook Conference in November.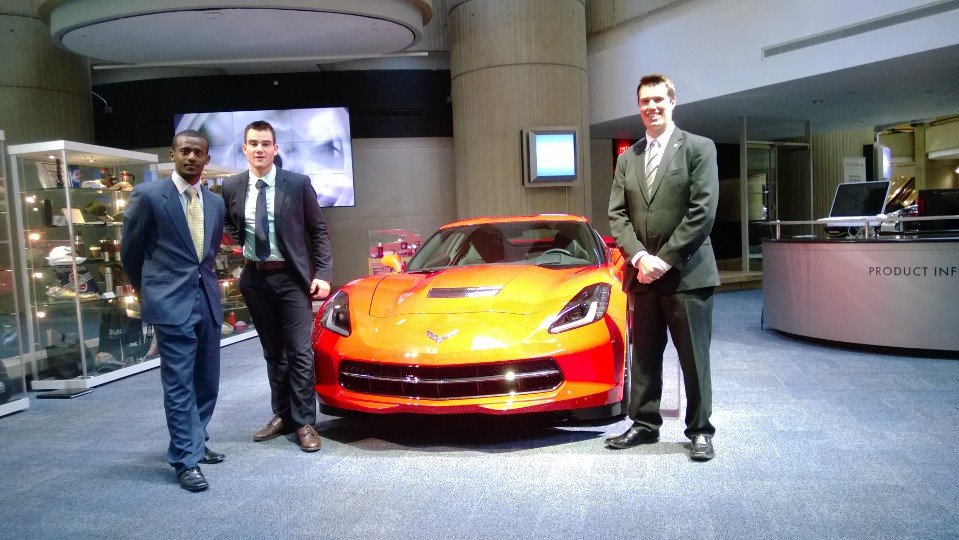 The conference agenda offered a global scope including presentations from thought leaders with expert perspectives on the industry's future. With more than 600 attendees at the conference – and more than 50% at the VP level or above – the students also had a chance to practice their networking skills.
Students were enthusiastic about representing OU at the conference and appreciated the benefits of attending.
"The conference provided a great way to find out what else was going on within the supplier base and the global industry as a whole," says Yasoni, a finance junior. "In addition to obtaining knowledge, I also had the opportunity to meet and talk with a number of executives and CEO's from all corners of the industry."
With interest in a career in the automotive industry, Yasoni, who has an internship with Faurecia in the automotive seating division, adds the experience was highly beneficial to his educational experience and professional development.
"It was an amazing conference," agrees Phillip Johnson. "The amount of networking I was able to do was wonderful. I met presidents of many corporations in the automotive industry who offered me advice. Opportunities like this are important for students to develop professionally as well as gain exposure to industries."
Business students and members of OU's SAE student racing team group Phillip Johnson, Daniel Ellis and Joshua Yasoni joined Professor Janell Townsend in representing Oakland University at the Original Equipment Suppliers Association annual Outlook Conference in November.

Created by Claudette Zolkowski-Brown (zolkowsk@oakland.edu) on Wednesday, December 4, 2013
Modified by Claudette Zolkowski-Brown (zolkowsk@oakland.edu) on Friday, December 6, 2013
Article Start Date: Wednesday, December 4, 2013