Wednesday, November 20, 2013
Senate committee seeks to honor outstanding educators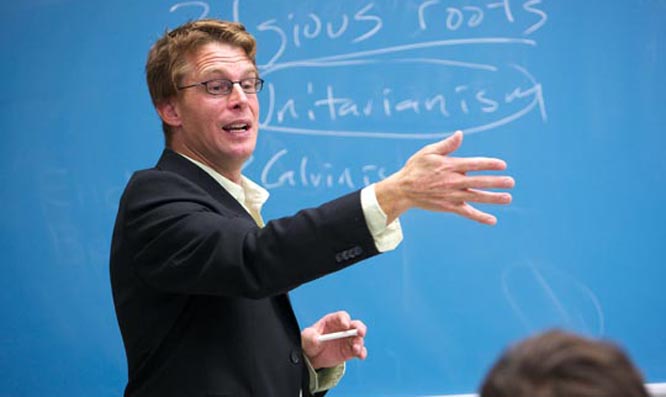 Dr. Jeffrey Insko was honored as a Teaching Excellence Award winner in 2012.
The Senate Teaching and Learning Committee is announcing a call for nominations for the 2014 Teaching Excellence Awards.
These award recognize superior teaching, innovative instructional practice, high educational standards, the creation of productive learning environments and the ability to inspire and motivate students.
Two awards will be made this year: one to a tenure-track or tenured faculty member and another to a non-tenure-track faculty member. Each award includes a cash stipend.
Nominations may be made by any member of the Oakland University community, including students, faculty, alumni, administrators and staff. Student nominations are a highly valued component of this process.
Faculty members may not self-nominate for the award, but are encouraged to announce this nomination process in all classes.
Previous winners and current members of the Teaching & Learning Committee are not eligible for nomination. A plaque showing previous Teaching Excellence Award winners is on display in the lobby of the Kresge Library.
Awards will be presented at the Annual Faculty Recognition Luncheon, tentatively scheduled for beginning of April, 2014. The deadline for nomination is Friday, Dec. 6, 2013.
Those interested in nominating a faculty member can access the online nomination form by clicking
here
.
Teaching Excellence Awards will be presented to one to a tenure-track or tenured faculty member and one non-tenure-track faculty member.

Created by David Groves (groves@oakland.edu) on Wednesday, November 20, 2013
Modified by David Groves (groves@oakland.edu) on Friday, November 22, 2013
Article Start Date: Wednesday, November 20, 2013