By Eric Reikowski, media relations assistant
This semester, a talented crop of freshmen in Oakland University's Honors College has been making discoveries through an engaging colloquium that embraces the timeless virtues of inspiration, imagination and innovation.
Drawing on a range of disciplines, the course has featured distinguished guest lecturers, including Sheilah Clay, president and CEO of the Neighborhood Service Organization; Dr. Craig Reickert of the Center for Simulation, Education and Research at Henry Ford Hospital; and "Nomadic Matt" Kepnes, a New York-based travel guru and blogger who penned a book on how to travel the world on just $50 a day. In addition, Dr. Stacey Hahn from OU's Department of Modern Languages and Literatures and Dr. Ken Mitton from OU's Eye Research Institute were also among the presenters.
These lectures were balanced with regular small group meetings, during which students developed new friendships and received personalized instruction, said Dr. Graeme Harper, dean of the Honors College.
"Every year the 'Making Discoveries' colloquium combines explorations of different areas of human discovery and invention and exploration," he said.
"It's challenging, and this year's group explored the sciences, arts, travel, medical simulation, community service, regeneration and development, new technologies and more."
As part of the class, students were tasked with coming up with creative solutions to a range of complex challenges.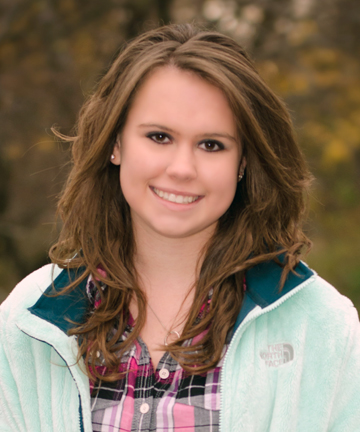 Amanda Robichaud
Amanda Robichaud's project idea quite literally came from her head. Plagued by chronic headaches for much of her life, the pre-biomedical sciences major conceived the idea of a special hat that would bring relief. She said that over the years she has pursued numerous treatments, from medication, massage therapy and even dental procedures to solve the problem, with little success.
"I know that pressure points are (important) in relieving all sorts of pain and that constantly taking medication is rough on the body. When we were told about the assignment, I happened to have a headache at the time, and I just went with it," Robichaud said.
"This is not only a personal problem, but it seems to run in my family and in a lot of friends. It seemed like a beneficial project that would be successful in the field if it were actually to be created."
For her project, Eden Hartley came up with the idea of creating a panic bracelet for victims of domestic abuse. She said the device would provide an added safety measure for victims who are trying to leave their abusers.
"The bracelets would basically look like typical silicon bracelets, but they would conceal a tiny panic button that the victim would be able to secretly press when an abusive situation was escalating. The bracelet would then contact emergency services," Hartley explained.
"The idea behind it is that, for most victims, leaving their abuser is a process in which they'll leave and come back, sometimes several times, and that, statistically, more victims are killed while trying to leave than at any other time."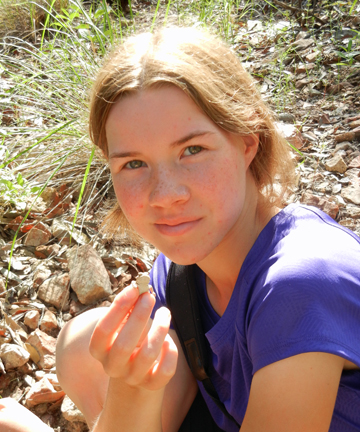 Marie Mcgee
A lifelong love of nature inspired Marie Mcgee to research the process of establishing a non-profit summer camp for children in urban areas.
"Nature has always been extremely important to me since I was small," said McGee. "But I had read that children in urban areas often have very little exposure to nature. I wanted to develop a project that would allow me to share my passion and make a difference to others."
According to Dr. Harper, other impressive projects included an innovative brain health program, new learning tool applications, new models for supporting local schools, a disability support program and contact lens sunglasses.
"The freshmen really came up with some fabulous ideas," he said.
"They showed themselves to be adventurous and inventive, developing into strong critical thinkers and creative team members. They are a very impressive group, and I look forward to what they can achieve in the years ahead."
To learn more about the OU Honors College, visit the website at
oakland.edu/hc
.
Oakland University is a vibrant academic community with more than 20,000 students and more than 260 degree and certificate programs. To learn more about academics, achievements, and events at OU, visit the news site at
oakland.edu/newsatou
and follow the news team on Twitter at
@OaklandU_News
.
Freshmen in Oakland University's Honors College have been making discoveries through an engaging colloquium that embraces inspiration, imagination and innovation.

Created by David Groves (groves@oakland.edu) on Wednesday, November 20, 2013
Modified by David Groves (groves@oakland.edu) on Thursday, November 21, 2013
Article Start Date: Wednesday, November 20, 2013