Monday, November 11, 2013
Program gives students glimpse into exciting futures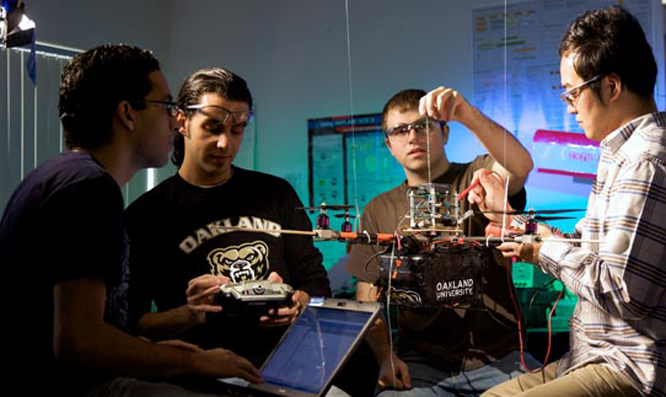 The Model to Model program exposes participants to engineering education opportunities like those that these Oakland University students have found.

By Rachel Zynel, contributing writer
Oakland University's School of Engineering and Computer Science (SECS) has teamed up with New Haven High School to give students a look into the engineering field before they head to college.
Through the Model to Model partnership program – developed by the Oakland University team in Macomb County and Felisicia Holifield, renewable energy program coordinator at New Haven – students have participated in a National Science Foundation program, as well as in labs and experiments on campus.
Among other future endeavors are plans to tour engineering facilities such as the Chrysler Technical Center.
SECS Associate Dean and Professor Lorenzo Smith believes the program greatly benefits students, especially those who haven't decided on a course of study.
"It's important for us to make sure that we can give the students a connection between engineering principles and hands-on experience," he said.
"A lot of times students at that age … might be intimidated by (engineering). We want to show the students going through these programs that engineering is all about helping people."
The Model to Model partnership program began after Holifield sought a connection with Oakland as the next step for her "renewable energy experience" at New Haven – part of a dual enrollment program between New Haven and Macomb Community College.
"The success of this type of program is that it's bigger than the classroom," Holifield said. "When you have an experience to connect with the class and it's positive, then you've created an environment of diversity."
Outreach remains an important focus for Oakland University, which hosts many programs for high school students, including career exploration camps and college readiness workshops in Macomb County and at the main campus in Rochester.
Still in the early stages of the program, both Smith and Holifield want to see where this program can develop in the future.
"We want it to grow," Smith said. "We're going to continue to develop the relationship more deeply… continue to have the students over here at the University."
The Model to Model program introduces students to a host of activities including a National Science Foundation program, and labs and experiments on OU's campus.

Created by David Groves (groves@oakland.edu) on Monday, November 11, 2013
Modified by David Groves (groves@oakland.edu) on Tuesday, November 12, 2013
Article Start Date: Monday, November 11, 2013