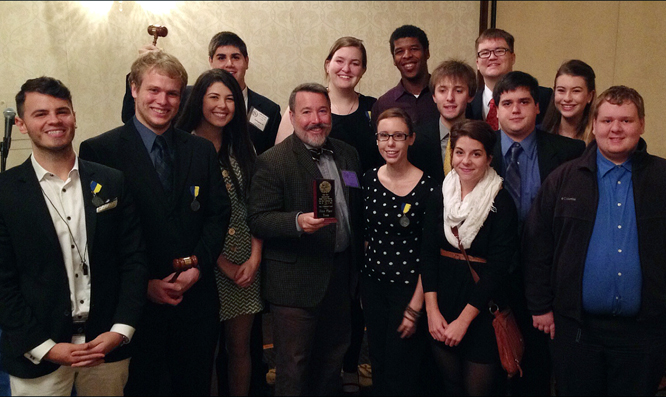 Oakland University's Model United Nations team recently took first place in the Lake Erie International Model UN Conference in Cleveland.
By Eric Reikowski, media relations assistant
Oakland University's Model United Nations team recently took first place in competition, with several members earning individual awards for their performances. In all, 13 OU students traveled to Cleveland for the Lake Erie International Model UN Conference, matching wits with students from colleges and universities nationwide.
"I could not be more proud of how our team did," said Dr. Peter Trumbore, team adviser and associate professor of political science.
"Only four of our team members had participated in Model UN before, and so for a team made up mainly of 'rookies' to take first place is a real testament to how hard they worked to prepare themselves to learn not just the rules of procedure, but more importantly to accurately portray the countries they were representing."
During competition, participants were judged based on how well they represented the interests of different countries on actual United Nations committees and organizations. Two OU students, Scott Farida and Sam Hyrns, earned "superior" ratings at the event.
Farida was a member of the conference "A-Team," which required him to represent any country or organization and answer questions posed by other committees. He also received his committee chair's gavel as the most outstanding member of his team. Hyrns represented Syria in the Organization of Islamic Cooperation.
In addition, the following OU students received "excellent" ratings for their portrayals of various countries:
Alyssa Clarke (Brazil on the Social, Humanitarian and Cultural Committee)
Robert Larsen (Argentina in the United Nations Development Programme; named "Most Outstanding Delegate")
Carly Puzniak (Israel in the United Nations Development Programme)
Josh Rieck (Sweden on the Disarmament and International Security Committee)
Alex Salar (China on the Disarmament and International Security Committee)
"The scoring system used by the conference awards the most points to individual delegates for 'staying in character,' so that should give some idea of how well prepared our students were on the substance of the issues and their countries' policy positions," Dr. Trumbore explained.
To prepare for the conference, students spent weeks learning about the issues – developing research and presentation skills – to effectively advocate for their countries' interests.
Dr. Trumbore added, "Participating in Model UN really helps the students hone their research skills, and we spend a lot of time working on public speaking and debate so that when they get to the conference they are able to make their arguments accurately and present their positions clearly and persuasively. It was really great to see some of the new students really develop a stronger sense of self-confidence during the weeks of preparation and then to have that pay off for them at the conference."
Other schools at the conference included Case Western Reserve University, Tiffin University, St. Bonaventure University, Mercyhurst University and Youngstown State University.
Model UN is open to students of all majors and can be taken as the two-credit course PS 362. This is Oakland's fifth year in the program, and the team has established a consistent record of success at conferences. This February, OU plans to compete in the North American Model United Nations Conference in Toronto. For more information on Oakland's Model UN team, contact Dr. Trumbore at
ptrumbor@oakland.edu
.
Oakland University is a vibrant academic community with more than 20,000 students and more than 260 degree and certificate programs. To learn more about academics, achievements, and events at OU, visit the news site at
oakland.edu/newsatou
and follow the news team on Twitter at
@OaklandU_News
.
Oakland University's Model United Nations team recently took first place in the Lake Erie International Model UN Conference in Cleveland.

Created by David Groves (groves@oakland.edu) on Friday, November 8, 2013
Modified by David Groves (groves@oakland.edu) on Thursday, November 21, 2013
Article Start Date: Friday, November 8, 2013