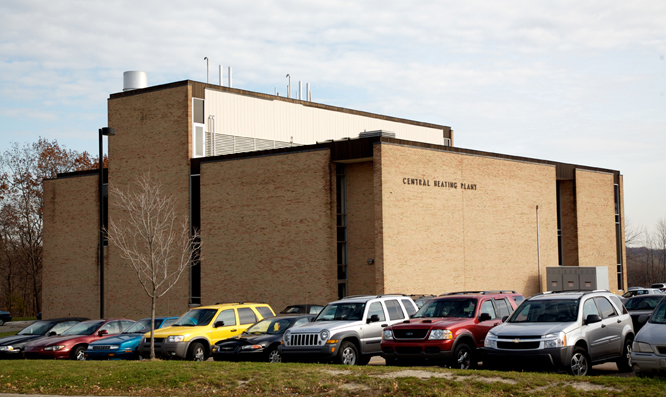 Oakland University's Central Heating Plant will be the site of a new combined heat and power generation system slated for completion in late 2015.
By Eric Reikowski, media relations assistant
Building on its sustainability efforts, Oakland University will partner with Chevron Energy Solutions to install a combined heat and power (CHP) co-generation system designed to reduce campus utility costs, provide necessary infrastructure upgrades and support educational resources.
The 4,600 KW natural gas turbine co-generation system, to be located in OU's Central Heating Plant, will supply hot water and electricity to campus. The public-private partnership will allow OU to retain ownership of the project while a private entity, Chevron Energy Solutions, builds the system. With no capital cost to OU, a projected 15-year capital lease will be used to finance a $12 million outlay by Chevron.
Along with increased energy efficiency, the partnership will result in a number of financial and operational advantages, according to OU officials overseeing the project.
"In today's economy, higher education must find creative financing ways or partnerships to fund new endeavors," said Siraj Khan, director of engineering for OU Facilities Management.
"(Public-private) partnerships are a unique way to structure, negotiate and implement the finance, design, development, construction and operation of development projects at a faster pace with guaranteed savings, higher return on investment and increased cash flow in the long-haul, with a minimum risk that will be transferred to the private sector, leaving the university in a win-win situation."
"Another benefit is that these partnerships will not increase OU's debt capacity, allowing the university to re-direct funds to other purposes," Khan said.
"The co-generation system will generate savings that will exceed the operation, maintenance and project financing costs, and will not increase the university's annual utility budget expenditures."
When the project is finished, OU will join six other Michigan universities with co-generation systems. Completion is slated for the end of 2015. In addition to cost-savings, the project also promises educational enhancements, such as a live dashboard, new clean energy courses and internships in support of OU's Clean Energy Research Center.
"CHP is a proven technology, and is becoming more and more popular in the wake of sustainability culture on higher education campuses all around the United States to reduce carbon footprint and to produce clean energy," Khan said.
"The operation of the CHP, real time energy monitoring, data for energy savings and reduction of emissions will be a learning tool for students and a valuable educational experience."
For additional information on sustainability efforts at OU, view the Facilities Management website at
oakland.edu/facilities
. To learn more about OU's Clean Energy Research Center, visit
oakland.edu/cerc
.
Oakland University is a vibrant academic community with more than 20,000 students and more than 260 degree and certificate programs. To learn more about academics, achievements, and events at OU, visit the news site at
oakland.edu/newsatou
and follow the news team on Twitter at
@OaklandU_News
.
Oakland University will partner with Chevron Energy Solutions to install a combined heat and power (CHP) co-generation system designed to reduce campus utility costs.

Created by David Groves (groves@oakland.edu) on Thursday, November 7, 2013
Modified by David Groves (groves@oakland.edu) on Friday, November 8, 2013
Article Start Date: Thursday, November 7, 2013