Monday, October 14, 2013
OUCARES to roll out red carpet for film premiere
By Eric Reikowski, media relations assistant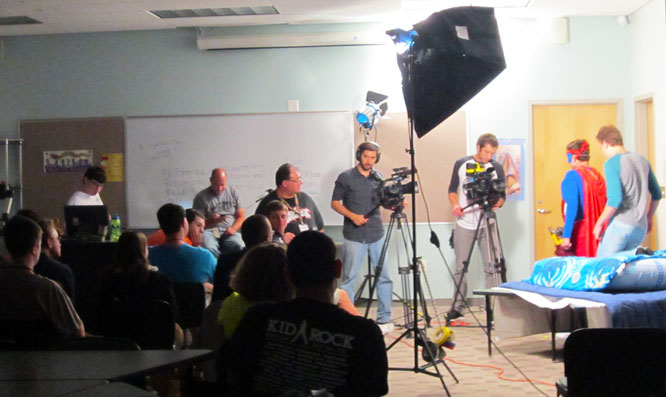 Students and crew members shoot a scene during the OUCARES film camp.
To celebrate the creative endeavors of 50 summer film camp participants, Oakland University's Center for Autism Research, Education and Support (OUCARES) will host its 2013 Red Carpet Film Premiere starting at 7 p.m. on Saturday, Oct. 26. Mrs. Michigan America 2013, Laura Zdravkovski, will emcee the event and film camp organizer Joey Travolta will serve as an honorary chairperson.

With guidance from Travolta, a well-known actor, director and entertainer, groups of students in the two-week film camp wrote, casted and produced short films themselves. Travolta and OUCARES leaders created the film camp – one of only six in the country – as a unique opportunity for youth on the autism spectrum to immerse themselves in the arts while in a supportive and inclusive setting.

The experience provides a safe environment where children learn the art of creativity and collaboration, according to OUCARES Director Kathy Sweeney.

"Every year, we all look forward to film camp," said Sweeney. "It offers the individual with autism an inside look at the film industry experience that just might motivate an interest that will grow into a career in the future."
The Red Carpet Film Premiere, which is open to the public, will take place in the Oakland Center on the campus of Oakland University. For interactive and printable maps, visit
oakland.edu/map
. Tickets to the event are $25 per person and are available by visiting
oakland.edu/oucaresstore
and clicking on "Events."

Film camp sponsors include Beaumont Children's Hospital Center for Human Development, Kids In Motion Pediatric Therapy Service, Autism Society of Michigan, the Macomb/St. Clair Autism Society, Easter Seals Michigan, and Oakland University's Office of the President, Office of the Provost and Academic Affairs, School of Nursing, Public School Academy, and Athletics.
To learn more about OUCARES, including ways to support its mission to improve the quality of life of individuals with autism and help meet the needs of their families, visit
oakland.edu/oucares
.
Oakland University is a vibrant academic community with more than 20,000 students and more than 260 degree and certificate programs. To learn more about academics, achievements, and events at OU, visit the news site at
oakland.edu/newsatou
and follow the news team on Twitter at
@OaklandU_News
.
OU's Center for Autism Research Education and Support will showcase original student films at the 2013 Red Carpet Film Premiere on Saturday, Oct. 26.

Created by Katherine Land - Deleted (land@oakland.edu) on Monday, October 14, 2013
Modified by Katherine Land - Deleted (land@oakland.edu) on Monday, October 21, 2013
Article Start Date: Monday, October 14, 2013