By Katie Williams, contributing writer
Oakland University knows that all students aspire to earn a degree and celebrate the rewarding experience that comes with graduation. The university also understands that sometimes life happens and plans change.

Some students are short a class or two, and for whatever reason – financial situations, illness, a job, family crisis, or some other unexpected circumstance – are unable to complete the requirements for the degree they've worked toward.

To support and encourage these students, the Office of the Registrar has developed the "Don't Be Late To Graduate" scholarship, which is offered to students who have completed at least 80 percent of their major coursework to earn a bachelor's degree.

"This scholarship tells students that Oakland values the degree and your education. We care about you and we want to remove those barriers, whatever they may be, between you and graduation," said Registrar Steve Shablin.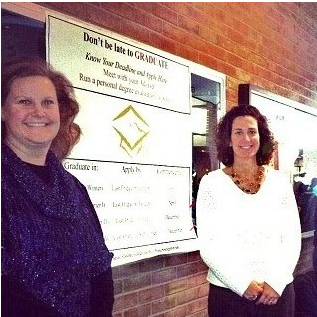 Amy Lindsay and Tricia Westergaard present the initiative at a graduation fair.

Brittani Burroughs, the first scholarship recipient, was at a standstill just 12 credits shy of a Bachelor's of Science degree in Health Sciences with a concentration in exercise science when she learned about the initiative.

Burroughs has returned to OU and is currently completing those credits, and expects to graduate in December.

"To me, this scholarship means that my university cares enough about their dedicated students, to meet a need and help them graduate," Burroughs said. "It means that I'm one step closer to becoming the first in my family to earn an undergraduate degree. It's a blessing to be awarded this scholarship."

The initiative was developed by Amy Lindsay, graduation project liaison, and Tricia Westergaard, associate registrar. They collaborated with Oakland's administration and academic advisers to make the scholarship a possibility.

"We focus on the student's future success and everyone needs encouragement," Lindsay said. "We're throwing students a line to come back and complete their degree."

Westergaard estimates that ten percent of the roughly 3,700 students who apply to graduate are not awarded a degree. The sooner a student is able to complete that degree, the less likely it is there will be major changes in requirement.

"There's a limited window of opportunity, and it's easier to keep working towards graduation sooner than later," she said. "We want to help students come back to Oakland."
The deadline to apply for the Winter 2014 Don't Be Late To Graduate scholarship is Friday, Nov. 1. The application can be found, along with more information about the award and readmission to OU, at
oakland.edu/comeback
.
Oakland University is a vibrant academic community with more than 20,000 students and more than 260 degree and certificate programs. To learn more about academics, achievements, and events at OU, visit the news site at
oakland.edu/newsatou
and follow the news team on Twitter at
@OaklandU_News
.
OU's new 'Don't Be Late to Graduate' scholarship helps students who came close to a degree but did not finish make their comeback to graduate.

Created by Katherine Land - Deleted (land@oakland.edu) on Thursday, October 10, 2013
Modified by Katherine Land - Deleted (land@oakland.edu) on Friday, October 11, 2013
Article Start Date: Thursday, October 10, 2013