This fall, the Oakland University Brass Band is celebrating its fifth anniversary and it's doing so in style, with a concert on Thursday, October 10 at 7:30 p.m. with a very special guest, cornet soloist
Bryan Appleby-Wineberg
. In addition to being the professor of trumpet at Rowan University in Glassboro, NJ, Mr. Appleby-Wineberg is the principal solo cornet of the Atlantic Brass Band. The OUBB is one of only six collegiate brass bands in the US and they were First Section Third Place Winners of the North American Brass Band Championships this year. Happy anniversary to our brass musicians!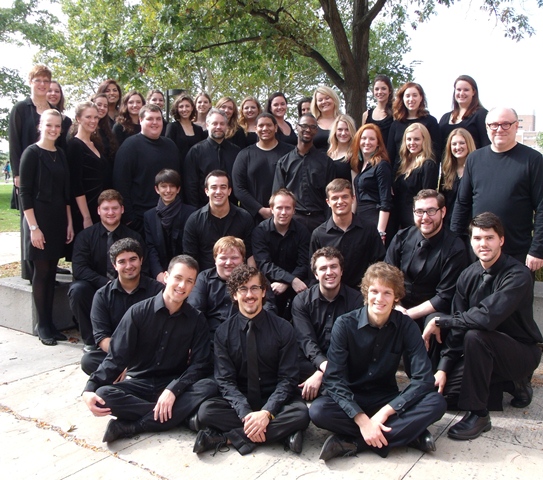 The Oakland Chorale has been invited to perform at ACDA Michigan's Annual Conference in Flint, which begins on October 25. Chorale director Associate Professor
Mike Mitchell
says, "Each year the conference features a few performances by the top choirs in the state. Choirs are selected by a panel of distinguished judges who listen to recordings in a blind audition."
The chorale's 30-minute program will include "Gloria, Pax, Alleluia," one of Mike's original compositions; a choral arrangement of a raga from India called "Dwijavanthi;" and an arrangement of the African American spiritual "Go Down, Moses" by OU master's alum
Jeffrey Cobb
. The conference concerts will be held in the sanctuary of the First Presbyterian Church in Flint, which is a beautiful setting with spectacular acoustics. The concerts are open to the public and tickets are available at the door. Mike Mitchell says, "This is a great honor for the students in the Chorale and for our entire department." You can read more about the
conference and the concerts here
.
We were very happy to receive notification that
Alexis Anne Collins
, (B.A. '05) is to receive the University's Outstanding Young Alumni Award this year. Alexis is a dance educator at Detroit Country Day School. "The Outstanding Young Alumni Award recognizes alumni who have demonstrated the worth of their education through their post-college achievements." Congratulations Alexis! She will be honored at the 2013 Alumni Awards Banquet on Friday, October 25, in the Oakland Center banquet rooms along with other distinguished alumni and community leaders. You can read more about the
awards and the banquet here
.
Our alums venture into all kinds of careers.
Adam Mitchell
(B.F.A. '13 ) is currently working as a technician onboard a Royal Caribbean cruise liner in Europe. He is blogging about his adventures and if you would like to read about what life is like on the other side of onboard entertainment,
you can do that here
.
Esau Pritchett
(B.A. '99) recently announced on his Facebook page that he had received the best birthday present ever, that he had been cast as Troy Maxson in a production of August Wilson's
Fences
, to be directed by Phylicia Rashad. Esau has also been busy on set. He has three movies listed on his IMDb page this year:
36 Saints
,
Cold Comes the Night
(with
Breaking Bad's
Bryan Cranston!) and
The Haunted Secret.
Read more about those here.
Closer to home, Meadow Brook Theatre's artistic director alum
Travis Walter
(B.A. '02) was recently featured in an article in
The Detroit Free Press
. The piece focused on how Travis was seen by some audience members as face of the company, most especially by those who enjoyed his curtain speeches. It also listed MBT's upcoming shows.
You can read the article here
. And read more about
MBT's upcoming season here
.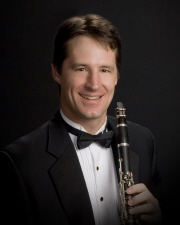 Associate Professor
George Stoffan
, has recently published a two-part article on current musical life in the Czech Republic, based upon his recent residency there. The first part appeared in the September issue of
The Clarinet Journal
and the second part will be in the December 2013 edition. You can read the
article in PDF format here
. Read more about
The Clarinet
on the website of the
International Clarinet Association here
.
You can hear George play as a guest with the Royal Oak Concert Band Sunday, October 27 at 3 p.m. in the auditorium at Royal Oak High. He will perform Carl Maria von Weber's
Concertino
.
Terry Herald
, our technical coordinator, who also teaches classes in film music, composed the score for the new movie
Between You and Me
. We have heard through the grapevine that the movie may be shown at the Sundance Film Festival next year. Watch this space. And Terry's contemporary classical music has recently been "charting" on Broadjam.com.
So watch this space too!
Professor
Jackie Wiggins
recently announced that the third edition of her widely used music education textbook will be published by Oxford University Press. She is revising the book, which will be published with the new title
Teaching Music with a Social Constructivist View of Learning
. The expected publication date is 2015. The second edition is still available and can be
purchased through the CARMU website here.
Mila Govich
, who teaches theatre for non-majors and coaches actors in our theatre program, also maintains a professional acting career herself. Most recently she has been filming in Pittsburgh on the high-profile adaptation of the famous young adult novel
The Fault in Our Stars
. Also in the cast are such well-respected actors as Shailene Woodley, Willem Dafoe and Laura Dern. You can read more about
the movie on IMDb here.
Ali Woerner
and
Thayer Jonutz
, our dance faculty, who are co-artistic directors of the Take Root Dance Company, have a typically busy month ahead of them. On Michigan Dance Day, October 12, they will be performing at Hope College in Holland, MI. Later in the month, from October 23 to 26, they will be at The National Dance Education Organization (NDEO) in Miami, FL where they will present together. Their presentation will be "Connect: Using partnering exploration to enhance the learning environment."​ On November 24 they will appear at the Red Bull House of Art in Detroit. You can keep track of all Take Root's performances and activities by signing up for their
newsletter on their website.
Finally, we got very advanced notice that
Debi Bernstein-Siegel
, recently retired from our dance faculty but still very active in the dance community, is organising a spring dance festival to be held at the Detroit Opera House in 2015. There will definitely be updates about this one!
Photos: Top right: The Oakland Chorale with director Associate Professor Mike Mitchell, standing far right. Photo by Carly Uhrig
Center left: Associate Professor George Stoffan