By Katie Land, news editor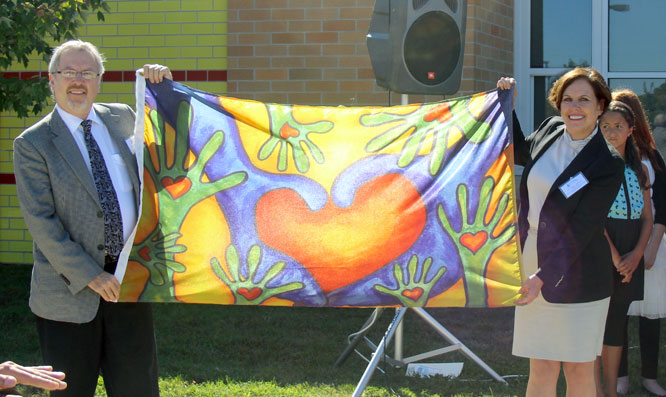 The Auburn Elementary flag is held by OU Provost Jim Lentini and SEHS Associate Dean Nancy Brown.
It seems the old adage – that it takes a village to raise a child – has found a practical application in the partnership between the Avondale School District and Oakland University. The newly launched partnership school project is poised to build a community of learners, leaders and engaged families.
Once just a dream, the Avondale/Oakland University Partnership School project has developed into a full-fledged experiment in holistic education. This fall, the partnership established Michigan's first-ever laboratory school designed to support not only the whole child, but the whole family.
Auburn Elementary School will provide children and families with a fresh, community-oriented school that meets the needs of diverse students, establishes new connections, and fosters critical thinking. It will also give future teachers an engaging and innovative place to explore best practices.
"This has been called a difficult time in education. What we are doing is reclaiming the agenda for the children in the Avondale School District and the children in Oakland County," said Robert Maxfield, interim dean of Oakland's School of Education and Human Services. "The partnership school represents a new, honest, and open phase of what universities and schools can do together."
The project has found a supporter in State Superintendent of Public Instruction Mike Flanagan, who attended the school opening celebration ceremony this morning at Auburn Elementary School. Flanagan works closely with the State Board of Education, the legislature and the governor to support public schools in Michigan.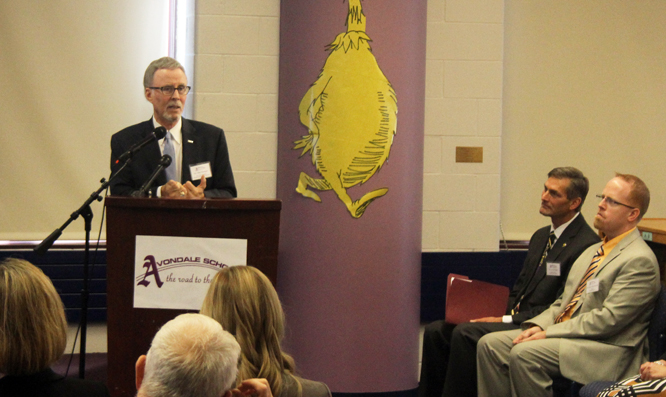 Michigan Superintendent Mike Flanagan at Auburn Elementary.
"This project is revolutionary," Flanagan said. "This is what all teachers need to prepare for their careers. This partnership can and will be the model for the future of schools, and I cannot help but applaud both institutions – Avondale School District and Oakland University."
Along with Flanagan and Dr. Maxfield, the celebration included distinguished speakers BJ McCabe, principal of Auburn Elementary, Dr. George Heitsch, superintendent of Avondale School District, Marcia Hudson, teacher leader for Auburn Elementary, and Dr. Vickie Markavitch, superintendent of Oakland Intermediate School District.
Designed as a clinical teaching model, the partnership school aims to discover and implement best practices for student learning, student-teacher education and teacher-to-teacher learning.
OU faculty members will teach courses and bring more than 60 OU students to gain important educational theory and practical experiences at Auburn Elementary.
"For university students, the richness of teacher prep here is unparalleled," Dr. Maxfield continued. "We are delighted to be a part of it and delighted that this school could become the model for universities and schools across the state and country. It is truly a model worth replicating."
With Auburn Elementary, the university and school district are able to explore their common vision for a school that incorporates teacher preparation, leadership development, social justice, parent and community engagement, and ongoing professional development for all staff that can directly lead to improved academic outcomes.
All told, the "wrap around" services for Auburn Elementary students and their families will touch on several areas within the OU community, including the School of Education and Human Services, Oakland University William Beaumont School of Medicine, Department of Music, Theatre & Dance, Department of Modern Languages and Literatures, Department of Sociology, Anthropology, Social Work & Criminal Justice, and the Department of Counseling.
To learn more about programs and initiatives in OU's SEHS, visit the website at
oakland.edu/sehs
. Find out more about events and opportunities through the Avondale/Oakland University Partnership through the
Facebook page
.
Oakland University is a vibrant academic community with more than 20,000 students and more than 260 degree and certificate programs. To learn more about academics, achievements, and events at OU, visit the news site at
oakland.edu/newsatou
and follow the news team on Twitter at
@OaklandU_News
.
Innovative Avondale/Oakland University Partnership School brings community support, visit from Michigan Superintendent Mike Flanagan.

Created by Katherine Land - Deleted (land@oakland.edu) on Wednesday, October 2, 2013
Modified by Katherine Land - Deleted (land@oakland.edu) on Thursday, October 3, 2013
Article Start Date: Thursday, October 3, 2013