By Eric Reikowski, media relations assistant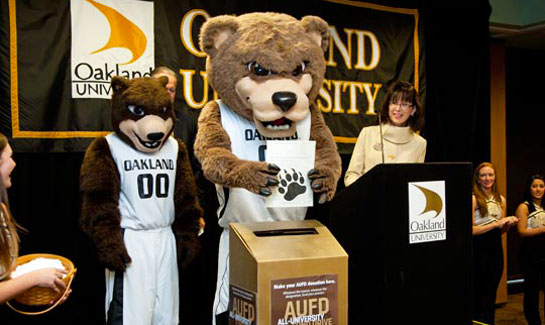 The Grizz makes the first gift at the 2012 AUFD launch party.
The Oakland University community will kick off the 2013-14 All-University Fund Drive (AUFD) with a launch party breakfast from 8:30–9:30 a.m. on Tuesday, Oct. 8, in the Oakland Center Gold Rooms.
During the event, Interim President Betty Youngblood will discuss the importance of this year's campaign, which aims to raise $350,000 for the university, a healthy increase over last year's total. Attendees will have the chance to contribute toward that goal at the event.
"This year's campaign continues our theme of 'Fund Your Passion.' With hundreds of areas to give to, each of us has a story of what drives us and why OU is special in our lives," said Kelly Brault, director of Annual Giving.
"We have made efforts to make giving more convenient this year. Employees can now give through payroll deduction on an ongoing basis, meaning that just like your bills, you can sign up and it will continue until you cancel it. Finally, while our main campaign will go through the fall semester, employees can give at any time, which will be great for new employees and employees who want to support a special project."
To support the campaign, Dr. Youngblood will generously match all gifts with 50 cents on the dollar (up to a $2,500 match) through Friday, Dec. 13, and continue OU's commitment to legacy donors by providing a match of $2,500 for qualified planned gifts of $10,000 or more.
Employees can download giving forms, make credit card gifts and payroll deduction pledges online via the AUFD website at oakland.edu/aufd or request a form through their team leader.
Donors may direct gifts to the program of their choice, or make a gift to the area of greatest need: the OU Fund. Contributions of all sizes work together to make an immeasurable impact on the lives of students, according to AUFD co-chair Graeme Harper, dean of the Honors College.
"Oakland is a truly remarkable university, made so by the wonderful strength of our community," Dr. Harper said. "Every single donation contributes to what we will achieve together, as students, staff and faculty. Lives are being changed for the better here, and that's something worth supporting."
This year's AUFD co-chairs represent commitment at all levels of the university. Dr. Harper will be joined by co-chairs George Preisinger, assistant vice president for classroom support and instructional technical services; Laila Guessous, associate professor of mechanical engineering; and Mary Carey, accounting clerk, Student Business Services. The retiree co-chairs are Pat Nicosia, former director of Budget and Financial Planning and Judy Brown, professor emerita of Sociology and Anthropology.
For more information regarding the AUFD, or how to make a gift, visit the AUFD website at
oakland.edu/aufd
or contact Annual Giving at (248) 364-6160 or
giving@oakland.edu
.
Oakland University is a vibrant academic community with more than 20,000 students and more than 260 degree and certificate programs. To learn more about academics, achievements, and events at OU, visit the news site at
oakland.edu/newsatou
and follow the news team on Twitter at
@OaklandU_News
.
The Oakland University community will usher in the 2013-14 All-University Fund Drive with a launch party on Tuesday, Oct. 8.

Created by Katherine Land - Deleted (land@oakland.edu) on Wednesday, October 2, 2013
Modified by Katherine Land - Deleted (land@oakland.edu) on Thursday, October 3, 2013
Article Start Date: Wednesday, October 2, 2013