By Eric Reikowski, media relations assistant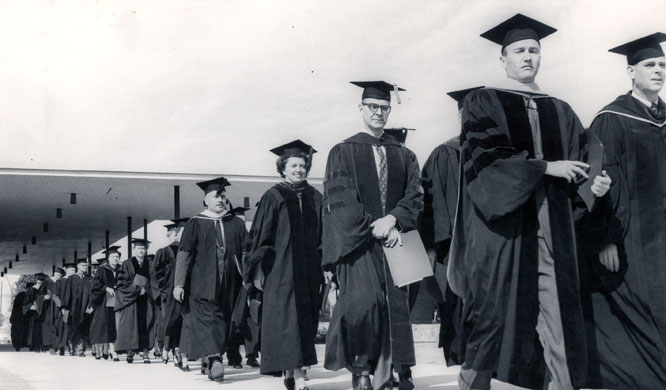 Members of Oakland University's charter class head to the first-ever commencement ceremony in 1963.
It's been 50 years since members of Oakland University's charter class donned their caps and gowns for the school's first commencement exercises.
To mark the occasion, plans are underway for a special reunion featuring a campus tour, presentations from university leaders and lunch with charter class faculty. The event is set for Friday, Sept. 13, through Saturday, Sept. 14, on Oakland's campus.
Attendees will enjoy a behind-the-scenes look at Meadow Brook Hall, visit the university archives and tour historic landmarks nestled amid modern additions – like the Human Health Building – that have enriched campus life for Oakland's nearly 20,000 current students. They will also have the opportunity to preserve memories in an oral history recording that will be added to the university archives.
The much-anticipated event promises to deliver loads of grizzly spirit as charter alumni catch up with classmates and reminisce about old times. Charter graduate Mary Jo Koren Ahern, who is part of the reunion committee, said she is looking forward to the event.
"It's always a lot of fun to get together with classmates," said Ahern, who served as a tour guide during the first orientation session, when the school was known as Michigan State University-Oakland. "Since there weren't that many of us, we were a very close-knit group. The students and professors all knew each other and there were only two buildings, North and South Foundation Hall."
Since graduating, Ahern has maintained strong ties to her alma mater. She resides in the Rochester area and both her children graduated from OU and met their spouses on campus. Her daughter was married at Meadow Brook Hall.
"Living so close to campus, we've been able to see all the progress the university has made over the years," Ahern added. "I'm really excited to see everyone from our class."
During the reunion, university leaders will host a series of engaging talks on topics such as health and wellness, lifelong learning, American Society in the 1960's and medical school.
Guest speakers include Geoffrey Upward, executive director of Meadow Brook Hall; Madelyn Rzadkowolski, curator of Meadow Brook Hall; Graeme Harper, dean of the Honors College; Kenneth Hightower, dean of the School of Health Sciences; Robert Noiva, associate dean for medical education and associate professor of biomedical sciences for the Oakland University William Beaumont School of Medicine; and Graham Cassano, assistant professor of sociology.
Registration for the reunion is currently underway. For more information, contact Erin Sudrovech in the Office of Alumni Engagement at (248) 364-6136 or
sudrovec@oakland.edu
. View the Charter Class Reunion website at
oualumni.com/charterclass
.
To learn more about academics, achievements, and events at OU, visit the news site at
oakland.edu/newsatou
and follow the news team on Twitter at
@OaklandU_News
.
Oakland University's charter class of graduates will return to campus this weekend to celebrate their 50th reunion. Festivities will run Sept. 13-14.

Created by Katherine Land - Deleted (land@oakland.edu) on Wednesday, September 11, 2013
Modified by Katherine Land - Deleted (land@oakland.edu) on Thursday, September 12, 2013
Article Start Date: Wednesday, September 11, 2013