Monday, August 12, 2013
Join OU Macomb County team at Tara Grant Run/Walk
More than 500 walkers and runners are expected to participate in the annual Turning Out to End Domestic Violence: Tara Grant Memorial Run/Walk, sponsored in part by Oakland University in Macomb County, Saturday, Sept. 28, at 1 Crocker Boulevard in Mount Clemens.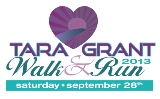 Oakland University alumni, students, faculty and staff are eligible for a discounted registration fee. OU students, staff, faculty and alumni participating in the event can get a free team T-shirt by visiting OU's Anton/Frankel Center before the event with OU identification. Registration is available at active.com. OU alumni and students registering for the OU Macomb County team may register at the student rate.
A free Family Health Fair takes place 4-7 p.m., Friday, Sept. 27, at CCPlus Dance/Fun/Fitness in Mount Clemens, offering entertainment, food, a silent auction, yoga and dance demonstrations and more.
With 33 percent of Oakland University's student population and 20,000 OU alumni living in Macomb County; and close to 2,000 OU students studying in Macomb County annually, Oakland University is committed to supporting community events, including sponsoring and participating in events such as previous Tara Grant Memorial Run/Walk events, this year's Nashville in the Neighborhood series in Mt. Clemens, the annual Macomb County Santa Parade, and the annual Martin Luther King Jr. Memorial celebration. Oakland University also served as the title sponsor of the 2013 Let's Move Festival of the Races, a 5K run/walk and half-marathon to combat childhood obesity.
"Our commitment to Macomb County involves – and goes beyond – offering educational services," says Julie Trube, interim executive director of Oakland University in Macomb County.
The Tara Grant Memorial Walk & Run began in 2007 as a way for Grant's family to share her legacy with others by promoting domestic violence awareness.
OU student, faculty, staff and alumni can get a free team T-shirt and take advantage of a discounted registration fee for this Mount Clemens event that helps raise awareness for domestic violence prevention.


Created by Claudette Zolkowski-Brown (zolkowsk@oakland.edu) on Monday, August 12, 2013
Modified by Claudette Zolkowski-Brown (zolkowsk@oakland.edu) on Monday, August 12, 2013
Article Start Date: Monday, August 12, 2013