By Katie Land, news editor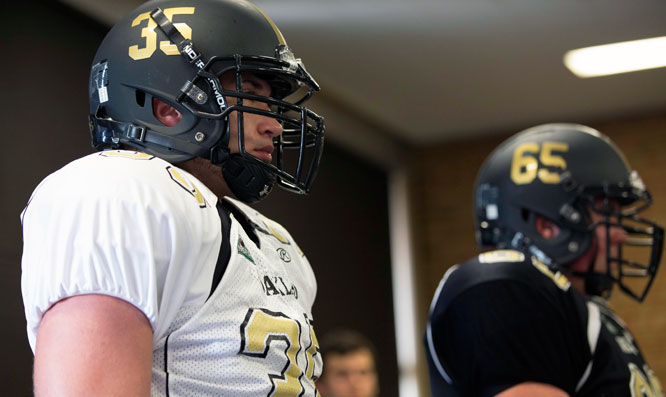 The OU Football Club debuts new uniforms at a press conference on August 5.
Generations of Golden Grizzlies fans can rest easy now, knowing that football has finally come to Oakland University. The OU Football Club will play their first season in the National Club Football Association (NCFA) this fall.
"The campus has been starved for football," said Nicholas Bongers, OU Football Club advisor, and instructional graphic designer at Oakland. Bongers also plays wide receiver for the team.
"Football is part of the college experience in America. Football is how some colleges are recognized across the nation. We obviously cannot achieve that overnight or even in years, but we are the first to put that OU football jersey on. That is a pretty heavy thing to us. Our coach has etched in our minds that we set the bar for future years of Oakland football and we want to set that bar as high as possible. We are not only doing this for us, but for the students, the community and for OU history."
In their first season, the OU Football Club will face off against club teams in the NCFA Great Lakes Conference, which includes the University of Michigan-Flint, University of Wisconsin-Milwaukee, Columbus State Community College, Wright State, University of Miami, and Ohio State University.
The team will make their first appearance at an inter-squad scrimmage during the OU Welcome Week Black & Gold Games, set for 8 p.m. on Saturday, Sept. 7, at at the Auburn Hills Civic Center Fields, located at Featherstone and Cross Creek Parkway, just west of Squirrel Road and within walking distance of campus.
The first official game will be against University of Michigan-Flint at 4 p.m. on Saturday, Sept. 21, at Atwood Field in Flint, Mich.
Click here
to view the complete schedule.
Although this is the OU Football Club's first season, the players have high expectations.
"We want to win first and foremost. We aren't doing this to waste anyone's time. We want the OU community to be proud of what we are doing, and the best way to do that is to win," Bongers said.
The team is comprised largely of undergraduate students, and includes graduate and doctoral students, and even tenured faculty. The experience and skill set of the players vary, from those who have never played organized football before to others who played for NCAA teams at other universities.
Since the football club has sprung up, so too have the stories. Campus lore suggests that OU founder Matilda Wilson forbade contact sports on campus -- a tall tale the team hopes to dispel.
"We've been sort of myth-busters on campus," Bongers said. "This is one of the most popular myths at OU, and also one of the most easy deterrents to someone who would want to start an OU football team. We have the utmost respect for Matilda Wilson and the rich history of OU, and we want to ingrain ourselves into that same history in the years to come."
The team is hosting a fundraiser at Buffalo Wild Wings in Rochester on Monday, Aug. 5. Print off a voucher from
the OU Football Club Facebook page
, and 20 percent of the bill will go toward the team. Funds will help support the costs of the team including uniforms, equipment, travel and gear.
There is still time to join the OU Football Club. Contact
oufootballclub@gmail.com
for more information about waivers, fees and participation.
Oakland University is a vibrant academic community with nearly 20,000 students and more than 260 degree and certificate programs. To learn more about academics, achievements, and events at OU, visit the news site at
oakland.edu/newsatou
and follow the news team on Twitter at
@OaklandU_News
.
The new OU Football Club will play their first season this fall, beginning with a scrimmage on Saturday, Sept. 7, and first official game on Saturday, Sept. 21.

Created by Katherine Land - Deleted (land@oakland.edu) on Monday, August 5, 2013
Modified by Katherine Land - Deleted (land@oakland.edu) on Wednesday, August 7, 2013
Article Start Date: Monday, August 5, 2013