By Kathleen Williams, contributing writer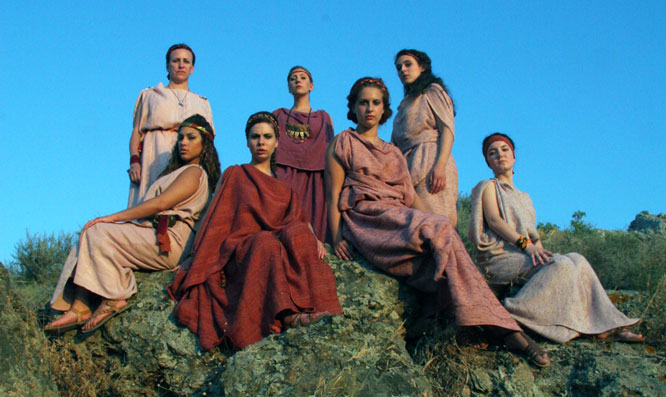 Students perform during an MTD classical theatre study abroad trip.
This summer, students in Oakland University's Department of Music, Theatre and Dance were given the rare opportunity to showcase their talents on a global stage.
Karen Sheridan and Kerro Knox, professors in
the theatre department
, brought 10 students to the Greek island of Hydra to perform a new adaptation of Sophocles' "Antigone." The group also studied acting, history and design while abroad.
The
Classical Theatre study abroad program
, now in its second year, was designed to allow students to perform and learn in Greece, where theatre originated and remains an integral part of modern culture.

"Greece is where Western theatre began. There's something about the atmosphere that just makes things make sense," Knox said. "Every student who has ever gone to Greece has come back with an appreciation of what the art is and what their role in society as an actor is."

The group performed at amphitheaters in Hydra and Poros. They also participated in workshops on acting, the design and construction of traditional masks, theatre history and Greek folk dancing.
Sheridan and Knox said much of their rendition of "Antigone" was influenced by the individual students involved. This year's group included both student actors and designers.

"Depending on what the students want to get out of it, we begin to tailor the theatrical experience to meet individual students' skills and desires," Sheridan said. "If they're interested in something, we find a way to incorporate those learning opportunities."

Prior to their departure, the group rehearsed and collaborated to adapt "Antigone" for a modern audience. Sheridan began work on a nonverbal prologue in the fall that has developed to include a choreographed stage fight and the use of traditional Greek masks.

Sheridan said the prologue is intended to provide the audience with some context from Greek mythology that they be unfamiliar with.

"When you put "Antigone" in front of a contemporary audience, they may not know all of the back story," Sheridan said. "When I do Greek theatre, I like to create a prologue that's part of the performance experience so when the actual play begins, they're already engaged. It empowers them to understand the story in the same way as a classical audience."

In addition to their performances, the group also toured archeological and historical sites, including Mycenae, Delphi, Epidaurus, Nafplio, Argos and Corinth.

"Antigone" will be performed in the fall at Varner Studio Theatre on Thursday, Sept. 5, Saturday, Sept. 7, and Sunday, Sept. 8. Proceeds from the performances will benefit a scholarship fund for future students in the Classical Theatre study abroad program.

Oakland offers study abroad opportunities spanning six continents. Students with any major may study abroad as early as the summer after their freshman year.
Oakland University is a vibrant academic community with nearly 20,000 students and more than 260 degree and certificate programs. To learn more about academics, achievements, and events at OU, visit the news site at
oakland.edu/newsatou
and follow the news team on Twitter at
@OaklandU_News
.
Oakland MTD students performed "Antigone" on the Greek island of Hydra as part of a summer study abroad program.

Created by Katherine Land - Deleted (land@oakland.edu) on Wednesday, July 31, 2013
Modified by Katherine Land - Deleted (land@oakland.edu) on Monday, August 5, 2013
Article Start Date: Wednesday, July 31, 2013