By Katie Land, news editor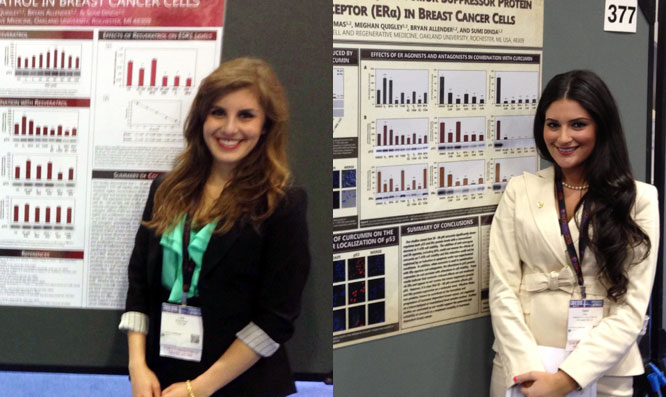 OU students Lisa Shammas (left) and Nada Sitto at ENDO-13.
Two Oakland University undergraduate students have been recognized for their research work with the prestigious Early Career Forum Travel Award from The Endocrine Society.
Senior students Nada Sitto and Lisa Shammas used the awards to travel and present their work at ENDO-13, The Endocrine Society's 95th Annual Meeting and Expo in San Francisco this summer. This is the first time that two undergraduates from the same laboratory have received the award, and the students are two of the youngest ever to be recognized.
"I was very proud and honored to see that Lisa and Nada won the travel award to present their work at ENDO-2013," said Sumi Dinda, Ph.D. and associate professor of Biomedical Diagnostic and Therapeutic Sciences.
"They have worked countless hours on their research projects. This speaks for the outstanding quality of their research. These awards are very prestigious for two undergraduate students to receive, when the awardee list consists of Ph.D.s and M.D.s."
Both Sitto and Shammas were recruited into Dr. Dinda's biomedical research lab after taking one of his courses in the School of Health Sciences (SHS). Once there, they began to work on individual research projects under Dr. Dinda's supervision.
"Students in my laboratory learn to scan current literature for their projects, analyze their data, design experiments and present their data, which are essential skills for conducting biomedical research," Dr. Dinda explained. "We work as a team seven days week and they are an integral part of my research program."
Sitto's research is focused on the active polyphenolic compound Curcumin, which is found in the spice turmeric and has some anti-cancer properties. Sitto utilized a number of biochemical assays to study its effects on tumor suppressors genes in breast cancer cells.
"I was truly humbled and intimidated being in front of this prestigious crowd," she said. "Everyone was very supportive and applauded my hard work. The conference was a very rewarding experience that I will always be grateful for. I would like to thank the Prevention Research Center in the School of Health Sciences for their continuous support."
After graduation, Sitto plans to pursue a doctorate degree and establish her own center for breast cancer research. "I believe, to be successful, you need three things: compassion, imagination and the desire to achieve," she said.
Shammas' project is also related to breast cancer research. Shammas studied the effects of Resveratrol, a compound found in red wine, on tumor suppressor proteins in breast cancer cells. She spent months culturing cells, performing different biochemical assays, reading literature and writing.
"The thought of presenting at this conference seemed very intimidating at first, but I was very excited to meet such distinguished scholars from around the world and listen to their input on my project. They were all very supportive and congratulated me on my hard work," said Shammas, who plans to attend medical school after graduation.
"Nada and I were some of the youngest to win the Early Career Forum Travel Award. As a result, we were invited to attend an all-day session with lectures on how to succeed in one's career. We were also given much opportunity to network with clinicians and scientists from around the world, and learned much about their experiences."
Oakland's SHS offers academic programs in applied health science, exercise science, health sciences, biomedical diagnostic and therapeutic sciences, occupational safety and health, physical therapy, and wellness, health promotion and injury prevention. Learn more at
oakland.edu/shs
.
Oakland University is a vibrant academic community with nearly 20,000 students and more than 260 degree and certificate programs. To learn more about academics, achievements, and events at OU, visit the news site at
oakland.edu/newsatou
and follow the news team on Twitter at
@OaklandU_News
.
Two OU students earned a prestigious award to present their breast cancer research at The Endocrine Society's annual expo.

Created by Katherine Land - Deleted (land@oakland.edu) on Monday, July 22, 2013
Modified by Katherine Land - Deleted (land@oakland.edu) on Wednesday, September 11, 2013
Article Start Date: Monday, July 22, 2013