Friday, July 19, 2013
Ongoing OU construction projects transform campus
By Katie Land, news editor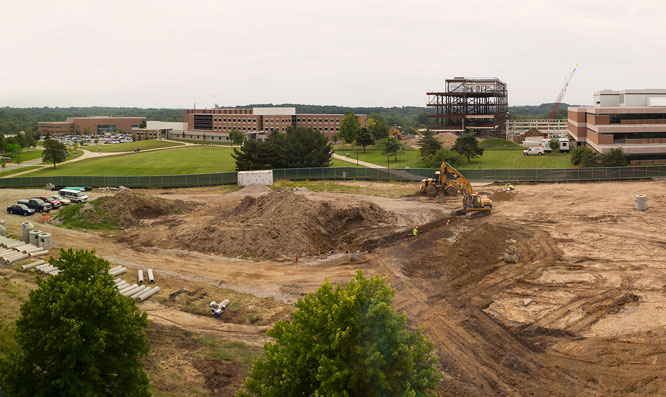 Construction crews at work on the Elliott Carillon Tower and the engineering center have transformed campus.
The once-familiar Oakland University skyline is now changing rapidly, thanks to numerous student-centered construction projects that are currently underway.
The projects include construction of a 1,240-space parking structure, a state-of-the-art engineering center, a nearly $30 million student housing complex, a new recreation and athletic complex, and a new headquarters for facility and grounds maintenance operations.
Additionally, construction has begun on a 151-foot carillon tower, which was made possible by a generous gift from longtime university benefactors Hugh and Nancy Elliott.
"All of the projects are on schedule," said Terry Stollsteimer, associate vice president for Facilities Management.
"Currently, the new engineering center, housing center, and carillon tower are being worked on. This August, work on the new parking structure, facilities building and upper fields will begin. All of the projects are on schedule and will be complete by Sept. 1, 2014."
All told, these construction projects will significantly transform Oakland's 1,443-acre campus in Rochester, which is home to exceptional academic and student life programs that have stimulated a 37 percent increase in student enrollment over 15 consecutive years of growth.
The new recreation and athletic complex will be located in the upper fields and will be constructed in two phases. In August, the area will be leveled and covered in gravel for use as temporary parking during the 2013-14 academic year.
Once the winter semester is complete in April 2014, the second phase of construction will begin, with a final completion date of Sept. 2014.
See how Oakland's campus has changed, grown and expanded over the years through
an interactive timeline
.
Oakland University is a vibrant academic community with nearly 20,000 students and more than 260 degree and certificate programs. To learn more about academics, achievements, and events at OU, visit the news site at
oakland.edu/newsatou
and follow the news team on Twitter at
@OaklandU_News
.
View more construction photos below.
The OU skyline is changing rapidly as construction progresses on numerous student-centered projects. All projects will be complete in 2014.

Created by Katherine Land - Deleted (land@oakland.edu) on Tuesday, July 16, 2013
Modified by Katherine Land - Deleted (land@oakland.edu) on Tuesday, July 23, 2013
Article Start Date: Friday, July 19, 2013