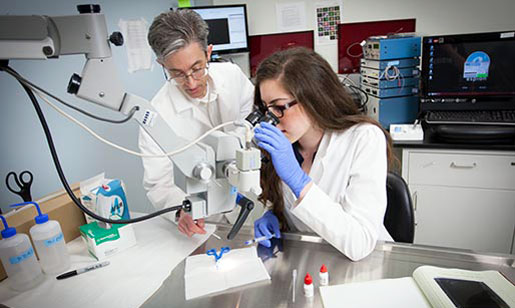 Dr. Kenneth Mitton (left) works with a student in the ERI.
Two grants recently awarded to Oakland University's Eye Research Institute (ERI) will significantly advance the mission it has pursued throughout its 45-year history.
A $500,000 grant from the Vision Research ROPARD Foundation (VRRF). The VRRF supports research to combat retinopathy of prematurity and other retinal diseases, and will fund the salaries, equipment, supplies and other expenses of the ERI's Pediatric Retinal Research Laboratory (PRRL) for two years.
In addition, Richard Skipper of Ft. Worth, Texas, has donated $30,000 through the VRRF to support unique and valuable research opportunities offered by the institute's Summer Undergraduate Program in Eye Research (SUPER).
"The competition for government funding of research is intensely competitive these days, and you have to find other ways of supporting your work. It's just an absolute necessity," said Frank Giblin, professor of biomedical sciences and director of the ERI.
"We are immensely grateful to the VRRF for this support because it will keep us at work on some very promising research, as well as help us acquire state-of-the-art technology that makes new research possible."
The grant funding will enable PRRL researchers to compile critical preliminary research data that will help make future grant applications more competitive when seeking funding from organizations such as the National Institutes of Health.
The ERI has an advantage because it is home to an unusual collaboration among experts in the field.
"This is the greatest strength of this place – the collaboration between basic science researchers and practicing clinicians," Giblin said.
Associate Professor of Biomedical Sciences and PRRL researcher Kenneth Mitton explained that two Beaumont Hospital clinicians, Dr. Michael Trese and Dr. Kimberly Drenser, work closely with him. Together they study the process of capillary drop out – the loss of retinal capillaries in vascular eye diseases such as retinopathy – and pursue treatments for it.
"These are world renowned physicians who see these cases on a daily basis," Mitton explained. "They're working directly with kids to try and help prevent them from going blind. What better inspiration for a researcher is there than that?"
In light of a long history of groundbreaking and relevant work such as this, the ERI is recognized as one of the world's premier vision research centers. In addition, the PRRL may be the only lab in the country dedicated solely to pediatric eye disease, and it is equipped with the most sophisticated retinal imaging equipment available and experts who actually consult with manufacturers to improve design and functionality of the equipment.
All of these factors likely contributed to the VRRF's decision to designate the Eye Research Institute as its main research arm.
Each summer, a select group of Oakland University students participates in this cutting-edge research environment, which not only helps advance work of the institute, but inspires the next generation of clinicians and researchers to break new ground in health care.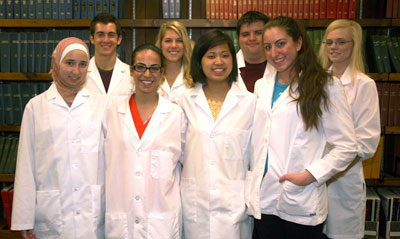 SUPER students gain research experience in the ERI.
Skipper's generous contribution will help extend this opportunity through SUPER, which pairs expert faculty members with students training in the areas of biochemistry, cell biology, physiology, molecular biology and neuroscience.
"That's what has to be done – we have to help the younger groups get interested in this," said Skipper, whose granddaughter has been diagnosed with retinopathy of prematurity.
"This kind of research has kind of been put on the back burner in a lot of places, and I just have an interest in seeing it move forward," he added. "If we put enough effort into it, one of these days it ought to lead to some kind of treatment or cure or prevention. That's what I'm hoping for."
To learn more about the
Eye Research Institute
, the
Pediatric Retinal Research Laboratory
and the
Summer Undergraduate Program in Eye Research
, visit the websites.
Oakland University is a vibrant academic community with nearly 20,000 students and more than 260 degree and certificate programs. To learn more about academics, achievements, and events at OU, visit the news site at
oakland.edu/newsatou
and follow the news team on Twitter at
@OaklandU_News
.
Two grants totaling $530,000 will support research into retinal diseases and ocular health in OU's Eye Research Institute.

Created by Katherine Land - Deleted (land@oakland.edu) on Tuesday, July 2, 2013
Modified by David Groves (groves@oakland.edu) on Monday, July 7, 2014
Article Start Date: Tuesday, July 2, 2013