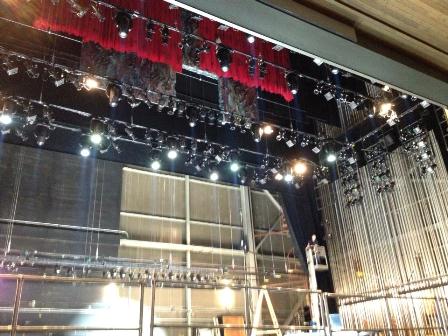 Just in time to make it into this month's news,
Chris O'Meara
, theatre design and tech major, sent us an update about his internship with Glimmerglass Festival. Take it away Chris! "It's been quite busy over the last few weeks at the opera. Anyways, here's what I've been up to here in Cooperstown, New York: As an electrics intern I work with the rest of the lighting department to hang, focus and maintain a 400+ unit repertory light plot in preparation for and during the season, along with helping to run lighting during the shows. I've already learned so much from the people and the projects I'm working with, and every day is providing new opportunities to increase my knowledge of lighting and theatre in general. We're putting up three operas and a musical this season:
The Flying Dutchman
,
King for a Day
,
Passions
, and
Camelot
. Each show has its own set of challenges and opportunities from a lighting perspective.
King for a Day
uses hundreds of feet of LED tape,
The
Flying Dutchman
has lights mounted in various areas of the set, and
Camelot
uses wireless dimming to add to the effect of different props and practicals. I'm incredibly thankful for this fantastic opportunity, and I look forward to what the rest of the season has in store."
A group of theatre students is having a different kind of amazing summer experience. They are taking part in the program's study abroad class "Classical Theatre Study in Greece." They will spend two and a half weeks on the island of Hydra taking classes in movement, acting and voice, modern Greek language and theatre history, as well as studying and rehearsing a classical play, which this year in
Antigone
. The play will be performed on Hydra and in outdoor amphitheaters during a tour of Greece. While on tour, students will see a performance at the ancient theatre of Epidaurus, visit Delphi, Corinth and Mycenae. They will also enjoy some free time in Athens. Professors
Karen Sheridan
and
Kerro Knox
are accompanying the students.
Those of us not able to make the trip can see
Antigone
right here in Varner on Thursday, September 5 at 6 p.m. as part of the Thursday Arts-After-Work Series; on Saturday, September 7 at 8 p.m. and on Sunday, September 8 at 2 p.m.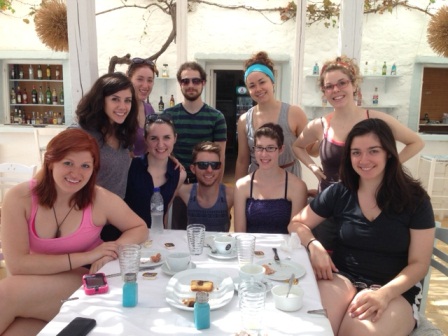 Some of our students have remained on campus and still gained some very worthwhile experience. The brass students performed a summer concert this year, offering a challenging and entertaining program to an appreciative audience. Since not all the student musicians were able to play, conductor
Kenneth Kroesche
invited graduate students, band directors and staff, including publicist
Carly Uhrig
, who lent her expertise on the cornet, to fill out the instrumentation.
Meanwhile, on the other side of campus some of our voice students found their "pay the tuition" jobs suddenly offered them an opportunity to perform. Voice students
Nicolette Book
and
Lauren Doucet
were working as servers at Finnegan's, the pub and grille in the Steve Sharf Clubhouse at the OU Golf and Learning Center, when patrons invited them to sing at dinner. They sing on request and Nicolette says, "
Friday
and
Saturday
nights seem to be the most popular time for us. It's amazing how many people have never heard opera before and have developed an appreciation for it through us!"
And we have some alumni news.
Brian Dambacher
(B.A.'97) has accepted a new position at Wayne State University as assistant professor of technical direction. Brian is delighted that, beginning this fall, his fiancée,
Sarah Pearline,
will also be at Wayne State as assistant professor of scenic design. Both were previously on faculty at Michigan State University. Not only is Brian looking forward to this new academic challenge, he is excited to be living in the city. His loft is very close to the Opera House and Comerica Stadium.

Jason Wickson
, who graduated in 2005 with a B.M. in vocal performance, is carving out an impressive career in opera. While he was at OU he studied with
John-Paul White
and
Edie Diggory.
Most recently he appeared as Erik in
The Flying Dutchman
at The Princeton Festival. You can read a review of his performance in
The New York Times here
. Keep reading to the very end! You can follow Jason's
career on his website here
.
You will only have to travel as far as Detroit to catch alum
Elizabeth Cedroni
(B.F.A. '09) perform. On Saturday, July 6 at 7:30, 9:30 and 11 pm, and again on Friday, July 12 at 9:30 and 11 pm, Elizabeth will present "Living the Dream" a cabaret show, at the Cadieux Café. Admission is $8 at the door. Elizabeth says the 7:30 pm Saturday concert will be "family friendly" for children ages 10 and over, and will showcase students from her private voice studio. At OU, Elizabeth studied with
Jan Albright
and she has sung as a member of the Michigan Opera Theatre Chorus in
The Mikado
,
La Bohéme
,
The Magic Flute
and
Carmina Burana
. Read more about Elizabeth's
career on her website.

On a much lighter note, recent musical theatre graduate
Susanna Allen
(B.F.A. '12) posted to her Facebook page that she had "worked" the Kinky Boots Tony party – presumably as part of the wait or catering staff. We can only imagine how exciting it must have been to be so close to the action after the show had done so well at the Tony Awards that night. This was Susanna's comment: "It was INSANE!
Harvey Fierstein
asked me where the bathroom was, saw so many real honest to goodness Tonys, and
Zachary Quinto
showed up!"
We also want to catch you up on some faculty news. Dance professors
Ali Woerner
and
Thayer Jonutz
are performing in Costa Rica at the time of writing, but their hectic schedule saw them at the Seligman Performing Arts Center in the middle of June. They were invited to dance as their new company Take Root, in collaboration with
Andrés Díaz
to bring dance and music together for Debussy's
Cello Sonata in D minor
. The June 15 concert was a celebration of the Great Lakes Chamber Music Festival's 20th anniversary.
Musical theatre professor
Fred Love
will spend a good portion of his summer at the Interlochen Arts Camp. He will teach a class which is new to the schedule this summer, Junior Musical Theatre Production, a six-week program for students in grades 3 through 6. The class will culminate with a performance, and applicants were required to audition. Perhaps we will see some of these young triple threats at OU 10 years from now! You can find
information about Interlochen here
.
Dance program director Professor
Greg Patterson
will be on sabbatical in the fall. He will spend the time getting his Masters of Pilates Instructor so he can certify OU dance students to teach Pilates. He is also communicating with the administrators over at the School of Health Sciences, who have expressed interest in having him work with their students. Greg's instructor is the president of the Pilates Method Alliance (PMA), which is the accrediting body for Pilates. We will miss seeing Greg around Varner.
Photos: Upper left: Hanging the lights at Glimmerglass Opera. Photo by Chris O'Meara.

Lower right: Studying abroad in Hydra, Greece this summer. Photo by Karen Sheridan.