by Gillian Ellis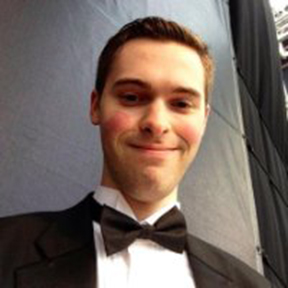 As a child,
Ari Hajek
(B.M. '09) thought he wanted to be a doctor, but at age14 he heard the Detroit Symphony Orchestra's
Brian Jones
play timpani
and Ari knew he wanted to be a musician.
Ari, a Rochester resident, had taken percussion lessons with Oakland University instructor
Dan Maslanka
since he was 10. He says, "In my opinion, Dan is the best freelance percussionist in Detroit." It was in order to continue studying with Maslanka that Ari enrolled at Oakland University. He was 16 at the time, and he completed his undergraduate degree in only three and a half years.
In addition to being able to work with Dan Maslanka, Ari says OU worked well for him because living at home allowed him access to the full complement of percussion instruments he had in his basement studio, and it allowed him to keep gigging in the area he was familiar with. These two things were always related for Ari. It was playing gigs that gave him the means to buy the equipment.
Once he had determined that music was his goal, Ari worked hard to perfect his technique. He has had individual lessons with many of the country's finest percussionists, including
John Tafoya
of the National Symphony Orchestra,
Robert Pangborn
of the Detroit Symphony,
Dan Bauch
of the Boston Symphony and
Paul Yancich
of the Cleveland Orchestra. He has also had advanced training with the Eastman Summer Percussion Institute and the Northwestern Summer Percussion Symposium, among others.
After graduation, Ari took two years to gig locally and to audition. He had some success, but after going through the audition process with the DSO, the Chicago Symphony and the Pittsburgh Symphony, he decided he needed more training.
In 2012, he enrolled at Rutgers University in New Jersey and began an M.M. There he studies with
Alan Abel
, who was for many years associate principal percussionist of the Philadelphia Orchestra and is a teacher of considerable renown. Ari says, "Mr. Abel has placed more people in orchestras than anyone else in the world – statistically speaking."
Ari also studies with
Joseph Tompkins,
who is chair of the percussion department at Rutgers. At Mr. Tompkins urging, after graduation Ari plans to spend a year in the New York/New Jersey/Philadelphia area freelance gigging and auditioning. During this time he hopes to gain experience and make contacts. His eventual aim is to earn a position with a symphony orchestra.
Ari says he loves two different, even conflicting, aspects about playing in a symphony orchestra. Blending with the orchestra and being part of a large group of people he can trust is important to him, but he says he also cherishes the "moments when I can stand out and they are relying on me."
Ari can be relied on to help out with just about any kind of music! At Rutgers he plays drum set when needed, and this summer he played percussion for the OU Brass Band's summer concert. He also has an interest in new music and is working on two electro-acoustic compositions he hopes to finish before he returns to Rutgers in the fall.
We look forward to hearing more from Ari in the coming years. Looking back, he says he is grateful for his years at Oakland not just because of the musical education he received here, but also because of the social experience he gained from the diverse academic community. He says, "Oakland helped shape my world view. It helped me react with people better, especially at gigs. It prepared me for the real world. That's a good thing."
You can see Ari perform "Stop Speaking" by Andy Akiho
in this YouTube clip
.