By Eric Reikowski, media relations assistant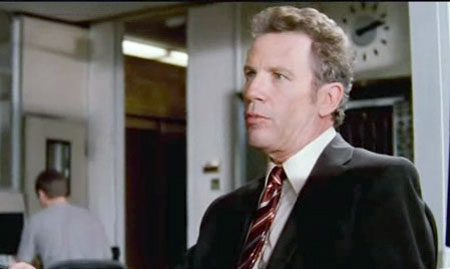 Steve Blackwood in "Machine Gun Preacher."
After 30 years in the industry, Steve Blackwood knows first-hand that there's no business like show business. The veteran actor and Oakland University alumnus shared his insights in a new self-published book, "The Steve Blackwood Sessions," reflecting on his journey through the rarefied world of film and television.
While perhaps best known for his 10-year stint playing Bart Beiderbecke on the long-running soap opera "Days of Our Lives," Blackwood has also appeared in popular television series' including "Doogie Howser, M.D.," "Dr. Quinn, Medicine Woman," "The Nanny," and "Judging Amy." His movie credits include roles in "Ed Gein," "Mooz-Lum" (with Danny Glover) and "Machine Gun Preacher" (with Gerard Butler). His latest title, "Misled" is due out later this year.
In his book, Blackwood offers tips on how to succeed in a notoriously competitive field. He also recalls how he "caught the acting bug" when he took his first acting class at OU. "I played the doctor in Williams' "Summer and Smoke" for a freshman year showcase, heard the applause and was hooked," he wrote. "Somehow I knew this is what I should continue to do."
After graduating in 1978, Blackwood headed to New York to study under legendary stage actress and teacher Uta Hagan in an acting class that included future Hollywood regulars Matthew Broderick and Jason Alexander.
His book provides light-hearted, practical advice on learning the craft, staying motivated and working well with colleagues. It was also intended to be a source of inspiration for dreamers of all stripes. "I hope that readers will learn to follow their passion and surround themselves with people who support that passion," Blackwood said.
Blackwood has taught acting classes at universities throughout the state, helping students hone their skills through a process of self-discovery he calls "tapping into your gold." In 2012, he taught a course in OU's Honors College on the topic of "Acting on Camera."
"The challenge was to get non-theatre majors excited about acting," Blackwood explained. "I think they did because we made the class about 'personalizing' their acting and finding their true selves in every field they choose to pursue."
In 2001, Blackwood was honored with the MaTilDa Lifetime Achievement Award from the
Department of Music Theatre and Dance
. He has fond memories of his time at OU and has enjoyed staying connected to campus.
"It was a kick to come back and teach at the school where I first learned how to act at Varner Hall," he said. "I felt a sense of completion."
"The Steve Blackwood Sessions" is available for purchase on
Amazon.com
and in the OU Barnes & Noble Bookstore. For more information, visit
steveblackwood.com
.
Oakland University is a vibrant academic community with nearly 20,000 students and more than 260 degree and certificate programs. To learn more about academics, achievements, and events at OU, visit the news site at
oakland.edu/newsatou
and follow the news team on Twitter at
@OaklandU_News
.
In his new book, actor and alumnus Steve Blackwood reflects on his journey from OU to success in film and television.

Created by Katherine Land - Deleted (land@oakland.edu) on Tuesday, June 25, 2013
Modified by Katherine Land - Deleted (land@oakland.edu) on Wednesday, August 7, 2013
Article Start Date: Tuesday, June 25, 2013