by Gillian Ellis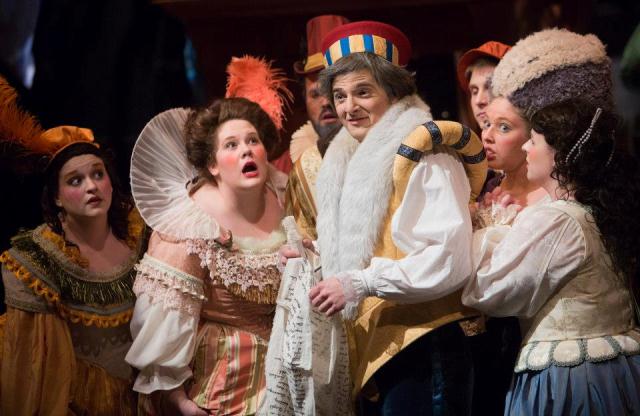 The Oakland University music program offers an impressive and diverse array of graduate degrees. Chair
Jackie Wiggins
heads up one of the largest music education doctoral programs in the country, and graduate program director
Joseph Shively
oversees master's degrees and postgraduate certificates in conducting, music education, pedagogy and performance. Complete information about these programs is available on our
graduate music webpage.

Nevertheless, we are always delighted when our newly minted graduates spread their wings and accept places to study at other universities. This fall, four music grads will take up places to do just that.
Two voice students have been accepted at prestigious institutions. Constantine Novotny, who was the winner of OU's 2013 Outstanding Student in Vocal Performance MaTilDa Award, will attend Witchita State University in Kansas as the recipient of the Samuel Ramey Opera Award.
Constantine wrote to tell us, "I will be studying with Dr. Deborah Baxter, who by chance heard me sing at the Michigan NATS competition and invited me to audition at WSU. When I arrived there, I had been set up to have lunch with her and Samuel Ramey, an opera superstar who had graduated from WSU years before. Mr. Ramey was present at my audition and I found out upon my acceptance that I had been awarded the Samuel Ramey Assistantship Award, in which he is given the final decision of the recipient. I am honored to accept the award and have opportunities to work with this operatic legend."
Lindsay Terrell will also pursue a voice performance master's degree. She thought long and hard about her decision before announcing it on her Facebook page. "After hearing back from all of my potential grad schools and spending weeks thinking about what I want for the next two years of my life, I am happy to announce that I've chosen the College-Conservatory of Music at the University of Cincinnati for my master's degree! All four schools have amazing programs and would have offered me incredible new experiences, but something in my gut has told me that CCM is the right choice. Thank you to all friends, family, and teachers . . . your support means more than you know. I'm very excited to start this new chapter of my life."
While at OU, Constantine studied with John-Paul White, the head of our voice program. Lindsay studied with Nadine Washington. Drake Dantzler, director of OU's opera program, who worked with both singers during last winter's opera production, says the news of their continuing vocal studies is "very exciting."
Two of our new alumni will attend graduate school to study music theory. Amanda Brewer, who just graduated with bachelor degrees in piano performance and English, will attend Michigan State University on a full assistantship for graduate studies in music theory. Amanda studied piano with Dr. Yin Zheng for two years and Dr. Rebecca Happel for one. She plans to pursue teaching music theory at the college level.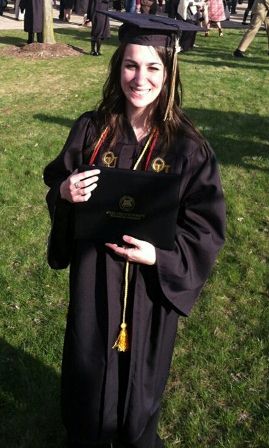 Amanda wrote to tell us about the admissions process and how her study plans evolved after she enrolled at OU. "The admissions process was much more involved than for undergraduate. MSU required two applications: one for the graduate school and one for the College of Music. In addition to the two applications, I had to submit writing samples, a resume, and counterpoint examples. I also had to attend an interview at Michigan State. I met with the four members of their theory faculty individually, each asking different questions and asking me to demonstrate different skills like sight singing and keyboard skills. It was a lot of work, but I had a wonderful mentor, Dr. Melissa Hoag, who willingly guided me through this application process.
"My experience at Oakland completely changed the direction I thought I was going in. I entered Oakland as a history major, but quickly switched to an English major. Prior to coming to Oakland, I had recently rediscovered my love for music due to changing my private piano instructor. About a semester in, I decided to audition for a music minor. As an auditioned music minor, I was required to take first year music theory. I had never really studied music theory prior to coming to Oakland, and taking the class unlocked a new exciting world for me. Even though I was a minor, I decided to take the second year theory classes even though they were not required for me. By the end of second year theory, I had made up my mind to become a double major in English and music, focusing my musical studies on theory. After taking all the theory classes offered at Oakland, I decided to pursue music theory in grad school. Without my fabulous instructors, Michele Soroka and Victoria Shively, as well as my mentor, Dr. Melissa Hoag, I would have never discovered this exciting field of study, and I wouldn't be on the educational path I am today."
Stephen Komer, who just graduated with a piano performance degree, has a full tuition scholarship and assistantship to attend Indiana University in Bloomington, Indiana. His piano instructor was Mary Siciliano.
Stephen also wrote to tell us about his journey to this point in his life. "I will be attending Indiana University in the fall, pursuing a master's degree . . . with the goal of completing my Ph.D. in music theory. I chose IU because it has one of the strongest and most prestigious music theory programs in the world. I would like to become a music theory professor, teaching at a university and pursuing research in that field. The admission process required me to send in a lengthy research paper that is analytic in nature, along with a resume, and all the other application materials. I was invited to an on-campus interview at which I was interviewed by various faculty members and tested on my sight-singing, analyzing, and functional keyboard skills. I was also asked questions on my teaching philosophies.
"I originally entered OU as a physics major and a piano minor. After my first year, I so much enjoyed all the music classes I had taken, that I switched to a double major in physics and piano performance. As I continued to study music at OU, enjoying it immensely, I determined that music was my true path and dropped my physics major. The wonderful music faculty at OU is a significant reason for my decision to pursue music as a career."
Both Stephen and Amanda had offers from others schools. Indeed, they were so successful that schools were competing for them. Theory professor Melissa Hoag explains, "Both Amanda and Stephen have been outstanding students in all of the upper-level undergraduate and graduate-level courses they have taken with me, and in the independent studies during which both students wrote their papers for admission to graduate study. I find working with students like Amanda and Stephen to be an extraordinarily fulfilling part of my job."
We congratulate all four of these high achieving new graduates as they refocus their studies in new academic surroundings. We know they will represent themselves and us in the very best way and we look forward to hearing about what we feel sure will be outstanding future accomplishments.
Photos: Upper: Lindsay Terrell (second from the left) as La Ciesca and Constantine Novotny (center) in the title role in Gianni Schicchi, January 2013. Photo by Rick Smith.
Lower: Amanda Brewer on graduation day 2013. Family photo.