Tuesday, May 28, 2013
ISSO changes insurance policy for international students
By Eric Reikowski, media relations assistant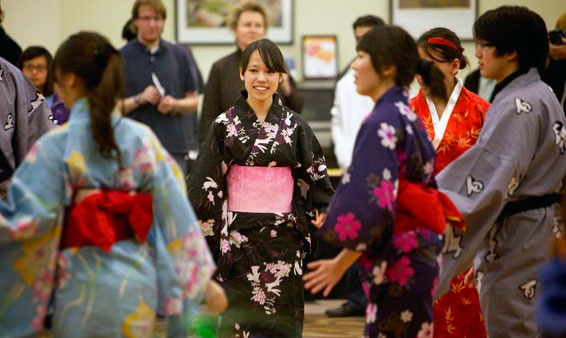 International students participate in an ISSO event at Oakland University.
The coming months will bring important health insurance policy changes for Oakland University international students and faculty.

Beginning in fall 2013, all international students and scholars must purchase the university sponsored health insurance plan, United Healthcare Student Resources. For the 2013-14 academic year, the policy cost is $1,557.

Through a waiver process, two categories of students may opt out of the university-sponsored health plan:
Students who are insured by a government sponsored U.S.-based health plan. Examples include government-sponsored students from Saudi Arabia, Kuwait, UAE, Amideast, and Iraq.
Students who are covered under a U.S. employer-based health plan as a dependent of a parent or spouse. In this case, the medical evacuation and repatriation plan must be purchased separately for $75.

Policies that do not meet one of the two conditions listed above will not be accepted as adequate insurance coverage. Only U.S. based health insurance plans will be accepted. PSI and ISO health plans will not qualify.

"This change in insurance policy may potentially affect P.I.'s (Principal Investigators) who invite J-1 scholars to participate in their research through grants at Oakland University," said Nancy Schmitz, assistant vice president for Student Affairs and interim dean of students. "Scholars are also now required to obtain the university-sponsored health insurance plan, United Healthcare Student Resources."
International students will be automatically billed for the university sponsored health insurance plan in September 2013. Coverage under this plan is available for spouses and children and these rates can be obtained by visiting the
International Students and Scholars Office
. For additional information, contact the office at (248) 370-3358.
Oakland University is a vibrant academic community with nearly 20,000 students and more than 260 degree and certificate programs. To learn more about academics, achievements, and events at OU, visit the news site at
oakland.edu/newsatou
and follow the news team on Twitter at
@OaklandU_News
.
Beginning in fall 2013, international students and scholars must purchase a university-sponsored health plan or be covered by an approved U.S. health plan.

Created by Katherine Land - Deleted (land@oakland.edu) on Tuesday, May 28, 2013
Modified by Katherine Land - Deleted (land@oakland.edu) on Wednesday, May 29, 2013
Article Start Date: Tuesday, May 28, 2013