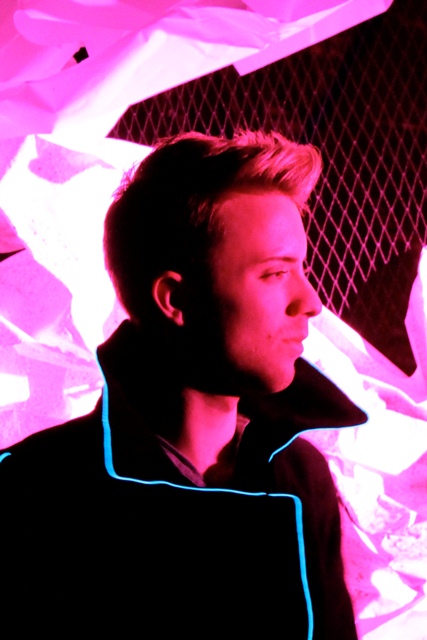 Our costume expert
Leslie Littell
recently heard from
Jamie Clausius
, a theatre design and tech alum (B.A. '05). Jamie completed a scenic painting intensive at the Cobalt Studio in New York and some of the work she did there is featured in the third edition of
Scenic Art for the Theatre
, a college level textbook widely recognized by scenic artists. Jamie is currently the scenic charge artist for the Children's Theatre in Madison, Wisconsin. She previously worked at the Lexington Children's Theatre. You can see examples of Jamie's work
on her website
.
Some of our performance alums are also flying the flag for OU.
Sam Rohloff
(B.F.A. '13) successfully auditioned for the role of Baby John in the national tour of
West Side Story.
He will join the cast in November. We're especially happy to report this opportunity was a direct result of the OU senior showcase trip to New York this past April. During that trip, the students took a workshop through Actors' Connection.
David Vogel
(B.F.A. '13) sang during that workshop for Jason Styres, a casting director from Binder Casting, an important New York casting agency. Through that connection, David won an audition, and finally an offer, to sing in shows on Carnival Cruiselines. These opportunities for our students were made possible by the generous support of the Oakland University Offices of the President and Provost.
Our Facebook page was abuzz recently as alums reacted to the casting announcements for the upcoming production of
Les Miserables
at Meadow Brook Theatre. The project is being staged by Spiro Productions, in partnership with The Other Mirror Theatre Company of New York. Members of the OU family that were cast include
Dave
Roy
(B.F.A. '13) playing Enjolras,
Natalie Sparbeck
playing Eponine and
Kryssy Becker
(B.F.A. '11) playing Fantine. Current students
Kayvon Kashani-Gharavi
,
Briana Fogleman
and
Alexandria Moffo
, are all in the ensemble. The show will run from June 30 until July 4 and tickets are on sale through Ticketmaster.
Miles Brown
, director of our jazz program, sent us the news that one of our foremost alumna, preeminent jazz violinist
Regina Carter,
has been announced as the Violinist/Violist/Cellist of the Year in the 17th Annual Jazz Journalists Association Jazz Awards in Music and Recording. Members of the Jazz Journalists Association make open nominations in a first round and musicians who receive the most nominations advance to the final ballot. Winners are presented with their award at one of their own public performances.
Miles himself will present at the International Society of Bassists Convention at the Eastman School of Music, in Rochester, New York on June 3. He will give a version of his doctoral presentation, which was an analysis of a solo improvisation by Dave Holland. Miles is looking forward to reuniting with his former teachers, Professor of Double Bass and Co-Chair of Eastman's Strings, Harp, and Guitar Department
James VanDemark
, and Associate Professor of Jazz Studies & Contemporary Media
Jeff
Campbell
, who are hosting
the convention.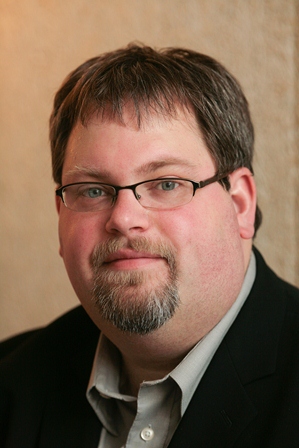 One of our standout alumnus in the academic field,
Alex Ruthmann
, recently announced some exciting news. In September he will join the faculty at New York University Steinhardt School of Culture, Education and Human Development as an associate professor of music education and music technology, in the
Department of Music and Performing Arts
. Alex completed both his M.Mus. and his Ph.D. at Oakland. He will move to New York from his current position at the University of Massachusetts – Lowell.
Last month we told you about the big splash our musical theatre majors had made in New York. Our theatre tech and design grads and majors are also making their mark.
Jeff Block
(B.F.A. '13) left for Los Angeles immediately after graduation to start work with Team Imagination, a full service lighting design company.
Daniel Robinson
is also spending the summer with Team Imagination, as an intern.
Laura Camposeo
(B.F.A. '13) will work with the Disney entertainment tech department in Orlando, Florida. It is a five-month internship running from August to December, with the possibility of an extension. Laura expects to be working mostly on lighting but hopes to be exposed to other areas of the tech field.
Recent graduate
Willow Lupa
(B.F.A. '13) who specializes in costume design and construction, will be on staff at The Shakespeare Theatre of New Jersey for their upcoming season, which runs from May through December 8. Willow writes, "I am a stitcher in the costume shop. This year we will be making extra corsets, which is a special interest of mine."
Another recently graduated tech student,
Rachel Buechele
(B.F.A. '13) has a job working in the costume department at The Henry Ford in Dearborn. Her primary job is to maintain the costumes worn by the re-enactors in Greenfield Village.
Other tech students have summer internships that will afford them very valuable experience.
Chris O'Meara
is going to be a lighting intern at the prestigious Glimmerglass Opera Festival in upstate New York.
Amy Brooks
will be a scenic artist at the nationally known Cape Playhouse on Cape Cod this summer, before beginning a two-year professional training program in scenic painting at Boston University.
Rachel Montgomery
is on staff at Hope Summer Repertory Theatre in Holland, Michigan, working in the props department.
Josh Williams
is on staff at the Forestburgh Playhouse in upstate New York this summer. He is a production intern with an emphasis on sound design.
Adam
Mitchell
is the stage manager for The Edge Productions'
Merchant of Venice
at the Downtown Mission Theatre in Windsor, Ontario.
Chris Neville
will spend the summer in Greece with the theatre program's study abroad class in classical theatre to complete his B.F.A. On his return, he plans to move to Chicago where he will do freelance costume and props work. He already has a couple of jobs lined up. First up will be a gig as assistant costume designer at the American Blues Theater for the show
Hank Williams: Lost Highway.
After that, he will work in the prop shop at the Paramount Theatre in Aurora, Illinois on one of the shows in their Broadway Series.
Chris has managed our box office with great efficiency and dedication for the last two years. We are grateful for his work and we wish him well in all his endeavors, as we do all our recent graduates.
Finally, we want to give you an update on the work of
Terry Herald
, our technical coordinator, who is also a successful composer. His work is frequently used as "background" for sporting events, so it is very widely heard but often unacknowledged. Here is a chance for you to see it and to hear it in context, courtesy of CBS Sports. This composition, "Achievement," was used several times during the recent broadcast of the Masters Golf Tournament.
See it here
.
And listen to a longer extract here.
We congratulate all these members of the OU family on their achievements.
Photos: Upper: Christopher J. Neville in one of the costumes he designed for the theatrical production
Dead Man's Cell Phone
. Photo by Jeremy Barnett.
Lower: Music Education alumnus Alex Ruthmann.