Thursday, May 16, 2013
OU, partners to host Summit on Accelerating Innovation
This summer, Oakland University will join forces with the Suppliers Partnership for the Environment (SP) and Commission for Environmental Cooperation (CEC) to present the Summit on Accelerating Innovation to Drive Sustainable Automotive Manufacturing Growth Across North America.
The Summit on Accelerating Innovation and will bring together North American automakers, suppliers, government representatives, academics and investment leaders to explore new methods of operation.
The goal is to explore and identify ways to boost advanced manufacturing processes and technologic innovations that will not only improve the overall environmental impact of automotive manufacturing, but offer a strong economic value as well.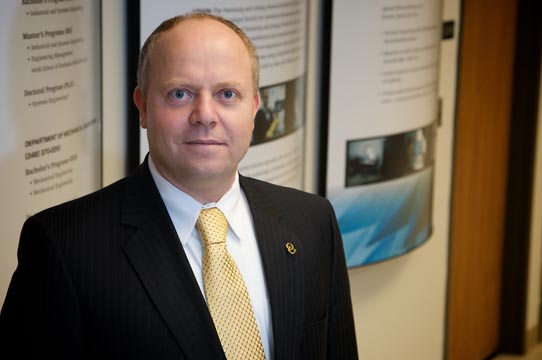 Louay Chamra, dean of OU's SECS.
"Oakland University is very excited to collaborate with Suppliers Partnership and the CEC to host the inaugural Summit on Accelerating Innovation on our campus in Oakland County," said Louay Chamra, dean and professor of OU's School of Engineering and Computer Science.
"Our faculty and staff keenly anticipate the opportunity to engage with leaders in the industry, and investigate opportunities in key areas such as educating tomorrow's leaders in embracing innovative and sustainable thinking to prepare for future careers in the automotive sector."
Set for Wednesday and Thursday, June 26-27, the summit will include an hour-long panel discussion hosted by the CEC to look at innovative and environmentally friendly work being done by SP members across North America. This panel discussion will be webcast live and include questions from participants at the event and online.
Participation in the summit is limited and by invitation only. To request an invitation to participate in the summit,
visit the website
.
Oakland University is a vibrant academic community with nearly 20,000 students and more than 260 degree and certificate programs. To learn more about academics, achievements, and events at OU, visit the news site at
oakland.edu/newsatou
and follow the news team on Twitter at
@OaklandU_News
.
OU will unite automakers, suppliers, academics and investment leaders to explore new methods to boost advanced manufacturing processes.

Created by Katherine Land - Deleted (land@oakland.edu) on Thursday, May 16, 2013
Modified by Katherine Land - Deleted (land@oakland.edu) on Friday, May 17, 2013
Article Start Date: Thursday, May 16, 2013