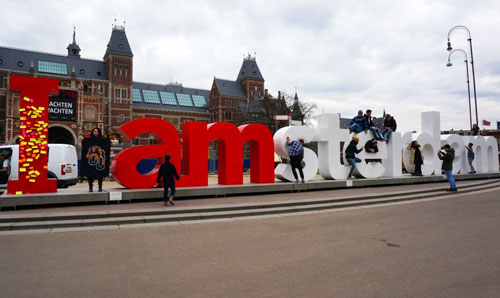 OU students pose during a previous year's study abroad trip to Amsterdam.
For 46 Oakland University students and alumni, the summer semester will begin in a Varner Hall classroom and end with an 11-day study-abroad experience exploring and comparing global healthcare systems in Paris, Geneva, and Amsterdam.

The new social work course, Global Health and Social Development, was developed in response to growing global health issues.

"Through my research in health and health inequalities and my presenting the research internationally, it became clear that comparative international study is valuable in understanding global health," said Assistant Professor of Social Work Scott Smith.
"The new course will begin in the classroom at OU, covering global health issues and their relationship to economic and social development, including how Western Europe compares to the United States in its health policies and practices in light of shared health problems. The study abroad component will follow, allowing students to experience first-hand the policies and practices covered in class."

The study abroad begins on Thursday, May 16, with a flight to Paris followed by train travel to Geneva.

"Geneva is our first stop in global health issues because it is the home of the World Health Organization and United Nations Offices," Dr. Smith said. "Paris is a great place to study the impact of migrations from colonies on global health. The group will examine the Parisian health care system, new immigrants and misplaced refugees to develop a comparative with policies in Southeast Michigan."

The study abroad will wrap up in Amsterdam with a focus on global health issues in the areas of sexual health, addiction and war.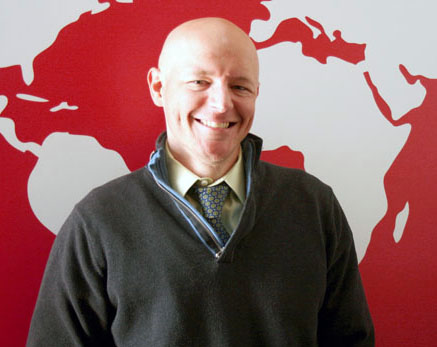 Scott Smith, Ph.D., assistant professor of Social Work.
"There will be various opportunities for learning," Dr. Smith continued. "Students will participate in lecture, discussion, and daily small group reflection. Service learning will take advantage of reports, and tours allow hands-on examination. A tour of the Louvre highlights artistic representations of illness, and a side trip to the Hague will include tours of the International Criminal Court and the Ann Frank house."
Dr. Smith polled students extensively to determine interest and feasibility for the program. By taking time and cost factors into account, he was able to generate a large interest in the program, and hopes to offer the program again next year.

"Our goal is to offer the program annually. Long term, we would like to offer semesters abroad and evolve into a graduate study option that partners with other universities," he said.
Information sessions for the 2014 social work study abroad will be held in September. For more information and details, contact Interim Director of the Social Work Program Maria DeVoogd-Beam at 248-370-3166 or e-mail
devoogd@oakland.edu
.

The Global Health program is the latest addition to OU's ever-increasing array of summer programs abroad available to OU students. This summer's lineup includes nursing programs in Padova, Italy; a history and literature program in Oxford, England; business tours of Warsaw, Prague, Munich, Strasburg, and Paris; a theatre and studio art program on the island of Hydra, Greece; and an archeology program in Israel.

Brian Connery, Director of the Office of International Education, emphasizes the uniqueness and academic rigor of all of these programs.

"Each program has been developed by an OU faculty member with very specific teaching objectives for students in their majors," said Connery. "Each program is custom tailored both to the geographic location(s) and to the student participants."
Oakland University is a vibrant academic community with nearly 20,000 students and more than 260 degree and certificate programs. To learn more about academics, achievements, and events at OU, visit the news site at
oakland.edu/newsatou
and follow the news team on Twitter at
@OaklandU_News
.
This summer, students will leave the classroom behind to explore global health systems and issues in Paris, Geneva, and Amsterdam.

Created by Katherine Land - Deleted (land@oakland.edu) on Monday, May 6, 2013
Modified by Katherine Land - Deleted (land@oakland.edu) on Monday, July 1, 2013
Article Start Date: Monday, May 6, 2013