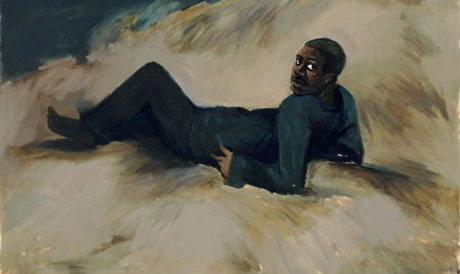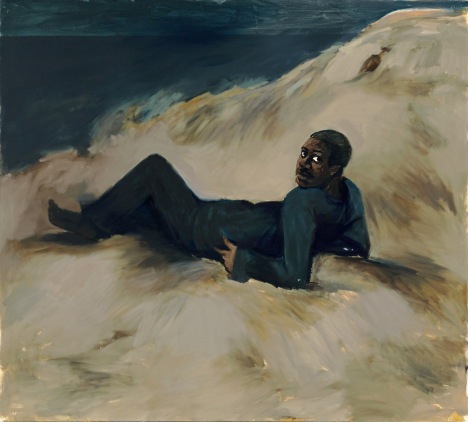 Midnight, Cadiz 2013
Lynette Yiadom-Boakye
Courtesy: Corvi-Mora, London and Jack Shainman Gallery, New York.
Photo: Marcus Leith, London
Two artists who recently showcased their work at the Oakland University Art Gallery have been shortlisted for the prestigious Turner Prize, a major event in the art world.
David Shrigley and Lynette Yiadom-Boakye both exhibited work at this winter's "The Roving Eye: Aura and the Contemporary Portrait" exhibition at OUAG.
"It's so important to bring up and coming artists to OU," said Dick Goody, director of the OUAG and acting chair of the university's Art Department.
"I take every opportunity I can for our students to see the very best of the latest developments in contemporary art. There is nothing equal to the visceral experience of seeing the actual object - to be able to spend time just looking at the art, rather than online or in a magazine."
The Turner Prize is awarded annually to a British artist under the age of fifty. Artists are nominated for an exhibition that took place in the twelve months prior to April 16, 2013.
Shrigley and Yiadom-Boakye are two of the four artists showing in the Turner Prize exhibition at Ebrington in Derry-Londonderry as part of the UK City of Culture 2013. The exhibition will open Wednesday, Oct. 23, and the jury-selected winner will be announced on Monday, Dec. 2.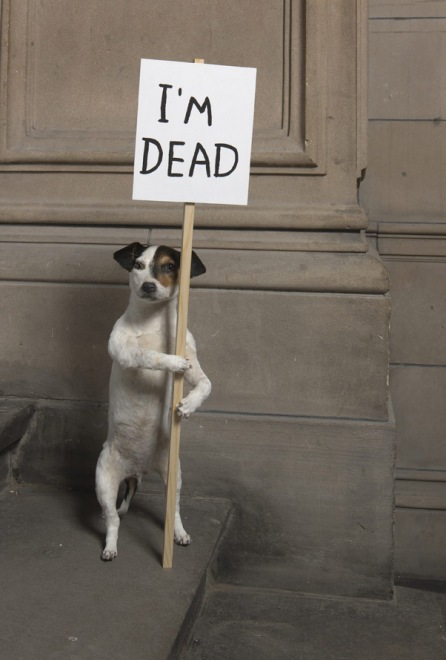 I'm Dead 2010
© David Shrigley, courtesy Collection Hamilton Corporate Finance Limited, Image courtesy Kelvingrove Art Gallery and Museum
Shrigley was nominated for his solo exhibition at Hayward Gallery, which included drawings, photography, sculpture and film. He is known for depicting black humour, macabre intelligence and infinite jest in his work.
Yiadom-Boakye was nominated for her exhibition at Chisenhale Gallery Extracts and Verses, which featured painted portraits of imaginary people. She invents pre-histories for her subjects and seeks to raise pertinent questions about how pictures are read and interpreted, particularly with regard to black subjects.
Goody was gratified that both artists showed their work at Oakland at the same time.
"We live in a media culture where everything is reduced to picture on a screen, but when you can walk into the gallery and see a painting by Lynette Yiadom-Boakye measuring 6 x 5 feet, when you can see the paint and the layers of work, it's the best experience in the world for a young artist," he explained.
"Curating exhibitions is the most exciting job in the world because you are always working with objects that we've never seen before and introducing them to people for the first time."
For more information or to learn about upcoming exhibitions at the OUAG, visit the website at
ouartgallery.org
Oakland University is a vibrant academic community with nearly 20,000 students and more than 260 degree and certificate programs. To learn more about academics, achievements, and events at OU, visit the news site at
oakland.edu/newsatou
and follow the news team on Twitter at
@OaklandU_News
.