OU INC client company cureLauncher won first place in the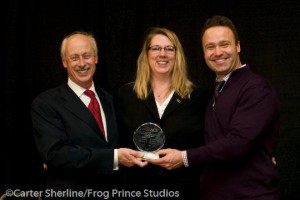 Elevator Pitch Competition at the 13th Annual
Collaboration for Entrepreneurship (ACE).
Along with five other finalists, cureLaunche
representatives shared the company's elevator
pitch with more than 1,000 guests and an esteemed
panel of venture capitalists serving as judges.
Each of the finalists received coaching from
the Michigan Small Business and Technology
Development Center and their home incubator/accelerators.
The cureLauncher website assists people
seeking medical treatment to find reliable and understandable
information about clinical trials looking to
maximize enrollment. It also assists potential
participants determine if they
are right for the trial.
The site, offered as a free service, is monitored
at all times in order to assist visitors.
cureLauncher President Steve Goldner said,
"This highly competitive event has already opened
up new opportunities for cureLauncher, which accelerates
its growth. We would also like to extend our
appreciation to OU INC for all of the support and
encouragement in preparing for the competition."