Wednesday, April 24, 2013
Staff Profile: Christopher J. Kobus Ph.D.
Chris Kobus, the Director of Engineering and Energy Education at OU INC, has been educating students at OU in the ways of clean energy since 1998. Kobus is also responsible for the establishment of the Clean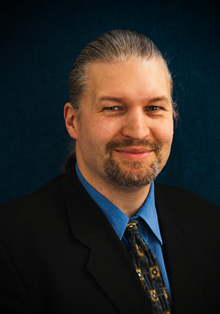 Energy Research Center (CERC) at OU INC, which has allowed him to reach out to the k-12 community, as well as college students and professionals interested in energy conservation.
In addition to Kobus's outreach program for k-12, he also heads the STEM program at Oakland University.
"STEM is Science, Technology, Engineering and Math. It is an area that is very important to us as a society, and for which we lack a sufficient number of graduates. So there are large economic implications in this area as well. My role, at least in part, is to encourage K-12 students through a well-developed and significant outreach to them, to consider going into STEM fields (especially engineering)," Kobus said.
According to Kobus, his time in graduate school was a catalyst for his love for teaching.
"I was a TA as a grad student and found that I both liked it and was good at it. The supervising faculty members noticed my competence (or they felt sorry for me) and allowed me to teach a full course, which ran so well that I ended up teaching another after that one before graduating," Kobus said. "That experience solidified my decision to go into teaching."
To students and professionals interested in green energy, Kobus urges them to do their research.
"There is plenty of information out there. Everything has a negative environmental consequence, so to be more energy conscious is not enough. You must start with conservation, because without that, being energy conscious is meaningless," Kobus said.
When he is not running between main campus and OU INC, Chris is enjoying the company of his wife and their 7 children.


Created by Sarah Blanchette (scblanch@oakland.edu) on Wednesday, April 24, 2013
Modified by Sarah Blanchette (scblanch@oakland.edu) on Friday, May 17, 2013
Article Start Date: Wednesday, April 24, 2013