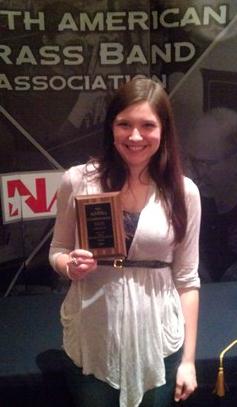 Everyone in the music program was very proud to hear that the Oakland University Brass Band acquitted themselves so well recently at the North American Brass Band Championships (NABBA), which is a truly nation-wide event. They performed in the First Section, the only collegiate group in a field of eight ensembles from across the United States. They were competing against bands whose adult members' abilities ranged from serious amateur to trained professional. The OU Brass Band took third place, a wonderful achievement. The ensemble is one of only a handful of collegiate brass bands in the country and offers a very special opportunity for a young musician who plays a brass instrument.
At the championship there is also a solo and ensemble competition. The OU Brass Band's principal solo cornet,
Emily Maas
, was named the third place winner of the High Brass Slow Melody Solo Competition. Congratulations Emily!
The band's director,
Associate Professor Kenneth Kroesche
, was very busy. He competed in the same section as the OU Brass Band with a different ensemble! He is the solo euphonium player with the Five Lakes Silver Band, the ensemble that won first place that day. Dr. Kroesche writes, "You may ask me, why I would let a band of college students compete against seasoned professional musicians like myself, and my response would be 'because they can!'"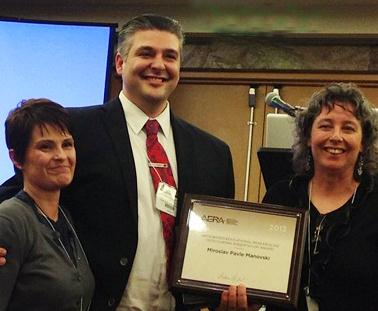 We're also delighted to share the news that
Dr. Miroslav Manovski
, who recently completed his Ph.D. in music education under the mentorship of Chair
Professor Jackie Wiggins
, has been awarded the dissertation of the year award by the Arts Based Educational Research (ABER) Special Interest Group of the American Educational Research Association (AERA). Diane Conrad and Jaime Beck, both at the University of Alberta, Canada and dissertation award co-chairs, forwarded some of the reviewers' comments to Miroslav. Here is just one of those. "
Finding My Voice
is an ambitious, courageous scholarly thesis that embodies arts-based research in all facets of research, methodology and representation, a pedagogical
tour de force
of inquiry that reiterates what many of us have come to know . . . and continually seek in our own pedagogical practices of inquiry and aesthetic explorations. The author offers a ringside seat as we journey through his dissertation and singing education . . . and offers us a rich tapestry of a life experienced, coming to voice, in practice and theory in a most splendid way."

Earlier this year we told you that
Mike Medvinsky
(B.M. '05), who teaches in the Brandon School District, had been named Oakland County Teacher of the Year. We are delighted to update you with the news that Mike, who is a music education alumnus and a part-time music education faculty member, is one of four finalists for the Michigan Teacher of the Year. He traveled to Lansing to be interviewed by the State Board of Education which will choose one winner. We are all awaiting the final decision with bated breath!
Coincidentally, Mike recently contributed to an NBC special on what works in education. You can see that
on this video link
. Look for Mike around the 10:20 mark.
We will round out our music program news with something that those of you who attended the March 2012 Alarm Will Sound concert in Varner Recital Hall will want to see. The ensemble, in which our very own faculty member
Miles Brown
plays bass, once again played Carnegie Hall.
Read the New York Times review here
.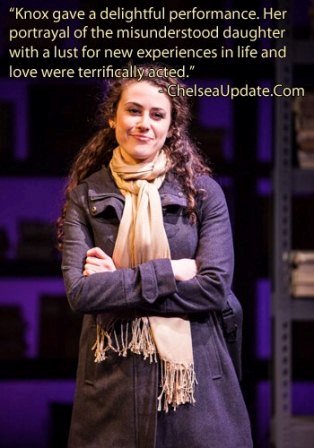 Turning from the most established of media to one of the most informal, we have to tell you, we love our Facebook page. We learn all kinds of things about our alums on there. Recently we were delighted to read that
Lauren Knox
(B.F.A. '12) is making her professional debut on the Purple Rose Theatre stage as Clara Brandt in the production
33 Variations
. Lauren began the season as an apprentice and she says in her Playbill bio that she feels "incredibly blessed to work alongside such an amazing company of artists." If you would like to see Lauren and lend her your support, the show runs until June 1. You can get more details
on the Purple Rose website.
We invite all alumni to send us their news. We want to know what you are up to, and so do your former classmates. Email
gellis@oakland.edu
with your professional updates.
Photos: Top right: Emily Maas receives her award at NABBA in Cincinnati, 2013
Center left: Miroslav Manovski receives his dissertation of the year award, presented by Jaime Beck (left ) co-chair, Dissertation Award Committee and Barbara Bickel, chair, Arts-Based Educational Research Special Interest Group, AERA (American Educational Research Association)
Center right: Mike Medvinksy, Oakland County Teacher of the Year
Lower left: Lauren Knox in
33 Variations
at the Purple Rose Theatre. Photo by Sean Carter Photography