Monday, April 22, 2013
OU INC Intern Success
Communications and Marketing Intern, Lauren Corbett has accepted a position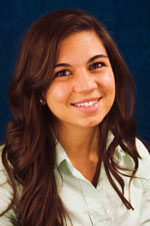 in marketing at MIYAN Media, which is based out of Novi, Michigan.
Beginning her OU INC career in October of 2012, Corbett had many accomplishments
which included, assisting in the reformation of OU INC's website, creating marketing
and media processes, and assisting in event planning.
Corbett will be graduating from Oakland University with a Bachelor's
in Communication and Graphic Design.
"I am grateful for the opportunities that OU INC has offered me,
as well as opening doors for my future career," Corbett said.
Visit
www.oakland.edu/ouinc
to see Lauren's impact on OU INC.


Created by Sarah Blanchette (scblanch@oakland.edu) on Monday, April 22, 2013
Modified by Sarah Blanchette (scblanch@oakland.edu) on Tuesday, April 30, 2013
Article Start Date: Monday, April 22, 2013