Monday, April 8, 2013
Three Honors College students to present at national research conference
By Eric Reikowski, media relations assistant
Three students in Oakland University's Honors College will present original research at the 27th National Conference on Undergraduate Research this April.

Jason Storms, Fara Di Noto and Christopher Clement are among a distinguished group of undergraduate students whose projects were selected from more than 3,500 submissions. They will join student scholars from around the world at this year's conference, which is being hosted by the University of Wisconsin-Lacrosse.
According to the conference website, attendance is expected to range from 3,000 to 3,500 individuals representing up to 45 states, plus the District of Columbia, Puerto Rico, Canada and likely other countries.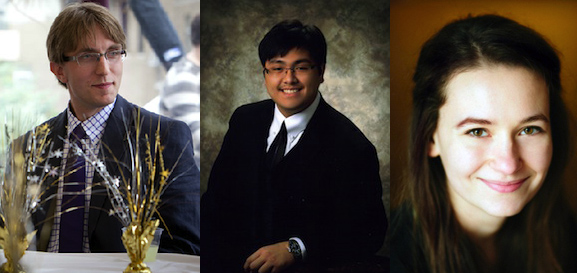 Jason Storms (left), Christopher Clement, and Fara Di Noto.
Storms will present research on author Nick Flynn's poetry volume, "The Captain Asks for a Show of Hands," which Storms describes as a stark portrait of how torture is "normalized" through pervasive references to violence in media and popular culture. The senior English major has shared his work at other conferences, including the prestigious Louisville Conference on Literature and Culture Since 1900.

Clement's presentation will focus on historical star patterns and Di Noto will discuss the science of facial detection, a topic that researchers are just beginning to understand.

"There's a lot of evidence to suggest where the processes of face recognition and face perception occur in the brain," said Di Noto, a senior psychology major. "But there's not as much known about where facial detection occurs."

The students created the projects for their senior thesis, the capstone of a rigorous curriculum offered to Honors College participants. Newly appointed Dean Graeme Harper sees the conference as a prime opportunity to showcase the talents of Oakland's undergraduate population.

"I look at this conference and our undergraduate students, and I know they are competing with their ideas and their projects at the highest level," Dr. Harper said. "We have a strong, ambitious, forward-thinking university and strong undergraduate research is a key element of what we do."
For more information on the OU Honors College, visit the website at
oakland.edu/hc
.
Oakland University is a vibrant academic community with nearly 20,000 students and more than 260 degree and certificate programs. To learn more about academics, achievements, and events at OU, visit the news site at
oakland.edu/newsatou
and follow the news team on Twitter at
@OaklandU_News
.
Jason Storms, Fara Di Noto and Christopher Clement will present their research at the 27th National Conference on Undergraduate Research this April.

Created by Katherine Land - Deleted (land@oakland.edu) on Monday, April 8, 2013
Modified by Katherine Land - Deleted (land@oakland.edu) on Tuesday, April 30, 2013
Article Start Date: Monday, April 8, 2013