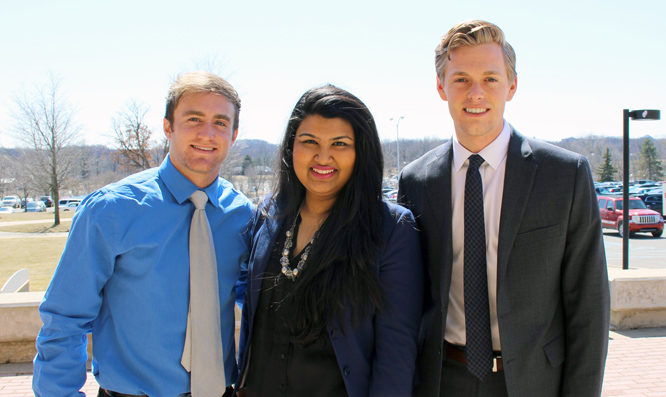 Nicholas Kristock (left), Subha Hanif, and Benjamin Eveslage
Each spring, Oakland University's Board of Trustees takes time to recognize three outstanding student leaders with the prestigious Alfred G., Matilda R. Wilson and Human Relations awards.
The 2013 winners are international relations major Benjamin Eveslage, biology major Subha Hanif, and business major Nicholas Kristock. The students were recognized by the board at the Wednesday, April 3, meeting.
The Wilson awards are reserved for the top male and female scholars and leaders, while the Human Relations Award recognizes a student who has made a valuable social impact within the university community.
All three students have built impressive academic, social and community-service based portfolios. Students are selected by a committee, recommended by faculty and staff members and approved by the vice president for academic affairs and the president.
The awards have been given out annually since 1965, to honor the Wilson family who donated land and support to help found the university.
Last year's honorees were Maxwell VanRaaphorst, who received the Alfred J. Wilson Award, Emily Tissot, who received the Matilda R. Wilson Award, and Shakita Billy, who won the Human Relations Award.
2013 Alfred G. Wilson Award
Benjamin Eveslage
In just three years, Benjamin Eveslage has become a well-known figure on campus. As student body president, he worked to bring about a 24-hour operation at Kresge Library, hosted a number of influential speakers and led a team to organize and host the 2012 Oakland Symposium on "Empowering Women in the Global Community" with 25 renowned panelists and a benefit dinner to help fund the construction of a school for girls in rural India.
"I believe Benjamin to be one of the most responsive and responsible students I have ever met," said Dr. Adriene Lim, dean of University Libraries. "He is that rare sort of person who inspires optimism and generosity in others, someone who is dedicated completely to whatever endeavor he undertakes. I am honored to recommend him for the Wilson Award, as I believe society will be enriched by his leadership contributions in the future."
2013 Matilda R. Wilson Award
Subha Hanif
Throughout her college years, Subha Hanif has excelled as an Honor's College student who has represented OU on campus, across the metro Detroit area, nationally and internationally. She has worked with doctors in the emergency department of Beaumont Hospital, and developed a program for underserved minority women in Hamtramck, uniting physicians from the OU William Beaumont School of Medicine and Beaumont Hospital. Hanif has shared her work at a number of prestigious events, including an emergency room doctor's conference in Denver, and an international women's conference hosted by the Royal Society of Medicine in the United Kingdom.
"Subha has been an exemplary student, a notable student leader, and a remarkable OU citizen," said Dr. Graeme Harper, director of The Honors College. "She is the first undergraduate student from Michigan – possibly the only undergraduate from the U.S. – ever to be invited to speak at a Royal Society of Medicine Conference, which she did in London in March 2012. I cannot imagine a better Wilson Award winner."
2013 Human Relations Award
Nicholas Kristock
At Oakland, Nicholas Kristock has excelled in athletics and community service, while volunteering his time to a number of community service organizations and charity events. Kristock played for the OU men's soccer team and has been a Golden Grizzlies Academic Award winner for the past four years. He is a member of the OU Student Athlete Advisory Committee, a member of the Oakland Fellowship of Christian Athletes, a volunteer tutor through the OU Academic Skills Center, and an OU Student Athlete Ambassador.
"Nicholas is without a doubt one of the finest young men and student-athletes to ever walk on the field for Oakland University," said Eric Pogue, head men's soccer coach. "We are all better coaches and better people for being a part of this young man's life. Nicholas is a very deserving candidate and will be an excellent recipient of such a deserving honor."
For a listing of previous Wilson award winners,
view the website
. For a listing of previous Human Relations Award winners,
view the website
.