Tuesday, February 12, 2013
SBA Business Brigades to inform, assist communities in Panama
By Eric Reikowski, media relations assistant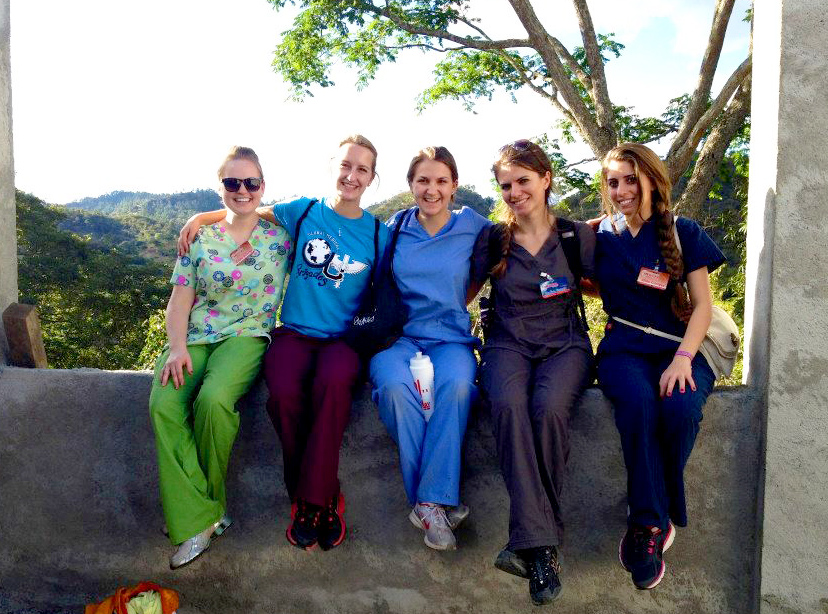 Students from the Medical Brigades and Public Health Brigades traveled to Honduras in December 2012.
Oakland University's Business Brigades chapter is planning a trip to Panama this spring, set for Sunday, April 28 through Saturday, May 4.

Business Brigades seeks to create economic growth and opportunity for communities in the developing world. The group is a subchapter of Global Brigades – the largest global health and sustainable development organization – and serves under-resourced communities in three main ways:
Supporting access to financial resources through the creation of a community-based credit and savings cooperative
Providing financial literacy education
Offering micro-enterprise development and counseling

During the trip, student volunteers will work with communities in rural Panama to provide financial education and micro-enterprise counseling.

"I absolutely believe this experience is a life-changing opportunity for students of all majors," said Laura Collier, an OU graduate and representative for Global Brigades. "Not only are students able to apply their classroom knowledge to real world challenges, but they're also making a difference directly in these communities."
Collier added that the goal is to continue expanding Global Brigades programs on campus, targeting all four countries the organization serves: Honduras, Panama, Nicaragua and Ghana.

Business Brigades is the fourth Global Brigades program launched at OU. The campus also has initiatives in Medical Brigades, Public Health Brigades and Architecture Brigades.
In 2011, OU's
Medical Brigades chapter traveled to rural Honduras
and provided free health care to people in the mountain top community of Hoya Grande. This past year, the Medical Brigades and Public Health Brigades chapters were in Honduras providing health care services.
School of Business Administration students may be eligible to receive a scholarship from the SBA to cover 50 percent of the program costs. To learn more about the scholarship, contact SBA Dean Mohan Tanniru at
tanniru@oakland.edu
.
For more on the Business Brigades trip,
view the flyer
.
Students can register by calling the Center for Student Activities at (248) 370-2400, or by contacting Collier at
laura.collier@globalbrigades.org
. The deadline to sign up is Thursday, Feb. 28.
Oakland University's Business Brigades chapter is planning a trip to Panama to help create economic growth and opportunity for communities in the developing world.

Created by Katherine Land - Deleted (land@oakland.edu) on Tuesday, February 12, 2013
Modified by Katherine Land - Deleted (land@oakland.edu) on Tuesday, February 12, 2013
Article Start Date: Tuesday, February 12, 2013