Monday, February 11, 2013
SBA hosts vitual international case competition
Oakland University's School of Business Administration is presenting a virtual International Case Competition where registered teams comprised of four students will analyze the presented case and provide a solution. Teams from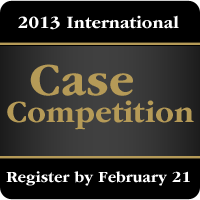 around the world will virtually present their analysis and solution to a judges' panel. There will be three rounds: The first a video submission; the second and final rounds will involve a live feed to the judges. Each team will have 20 minute to present their case and 15 minutes for questions and answers.
More than 200 schools from around the world have been invited. Registration deadline is Feb. 21, registrations accepted on a first-come, first-serve basis. Prizes award to top three teams.
For competition details and registration information see the
OU International Case Competition
website.


Created by Claudette Zolkowski-Brown (zolkowsk@oakland.edu) on Monday, February 11, 2013
Modified by Claudette Zolkowski-Brown (zolkowsk@oakland.edu) on Monday, February 11, 2013
Article Start Date: Monday, February 11, 2013