Thursday, February 7, 2013
OU's American Chemical Society wows at statewide competition
By Carin Inglis, media relations intern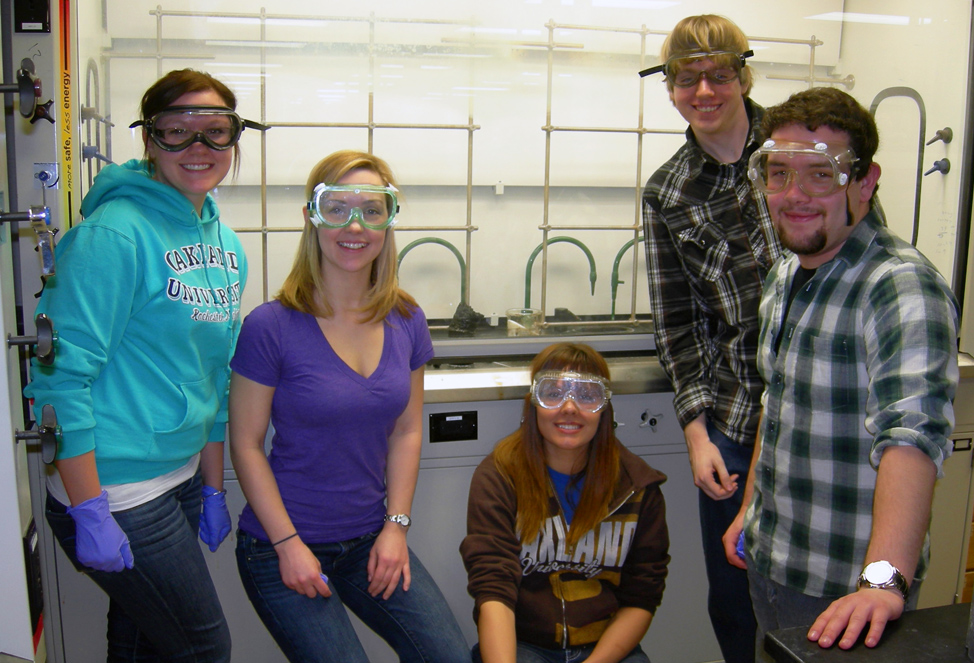 OU's American Chemical Society wowed at a recent statewide competition.
The Oakland University American Chemical Society Student Chapter celebrated a recent victory at the "Battle of the Chemistry Clubs." They were among the 12 chemistry groups from around the state who traveled to Michigan State University to participate in the competition, which was hosted by the ACS Younger Chemists Committee at MSU.

The OU student club took second place with a score of 90 out of a possible 100 points, just behind a group from Kalamazoo College. The OU team consisted of members Dan Kurtz, Teresa Serwick, Candi Gokey, Brandon McCullough and Suzi Neal.

Team OU nearly scored first place in the final round of Chemistry Jeopardy, but a minor slip up in the delivery of their answer cost them the win. The talented group performed remarkably well in all other rounds as well, being the only team to receive a perfect score in the semifinal round.

"In short, while we did not win the event, we truly outperformed the other groups competing," said Charlene Hayden, faculty advisor and chemistry professor.

The OU ACS Student Chapter is open to all undergraduate students who plan to major in chemistry or a chemistry-related field, such as biochemistry or biology. The group's mission is to encourage informal networking and share information about chemistry and career choices in the sciences.
Upcoming plans for the group include an "I Hate Valentine's Day Flower Smash" fundraiser on Thursday, Feb. 14, and a lecture in March from a former Food and Drug Administration employee.
For more information on events or to join the group, visit the
ACS GrizzOrgs page
.
The Oakland University American Chemical Society Student Chapter is celebrating a recent victory at the "Battle of the Chemistry Clubs."

Created by Katherine Land - Deleted (land@oakland.edu) on Thursday, February 7, 2013
Modified by Katherine Land - Deleted (land@oakland.edu) on Thursday, February 7, 2013
Article Start Date: Thursday, February 7, 2013