Tuesday, January 29, 2013
Contenders for 2013-14 OUSC president must declare by Feb. 1
By Carin Inglis, media relations intern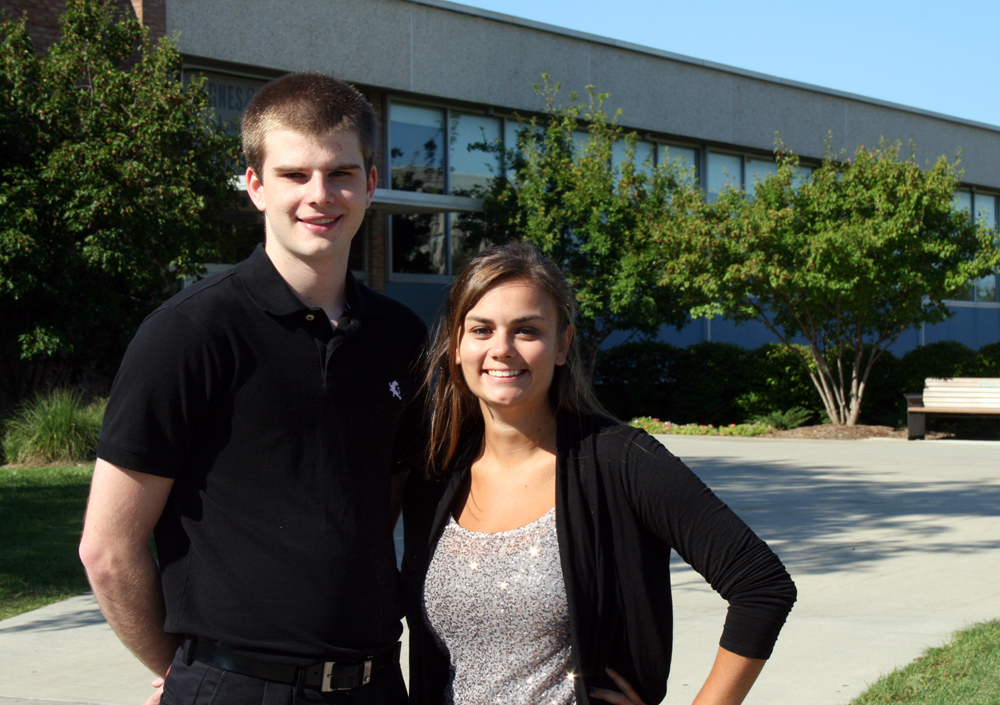 Robbie Williford and Samantha Wolf
It is election season again for Oakland University Student Congress and the positions of student body president and vice president for 2013-14 need to be filled. Candidacy for the upcoming election must be declared by 5 p.m. on Friday, Feb. 1.

The official election kick off is at noon on Tuesday, Feb. 26, in Gold Room A. At this time, candidates will announce their platform and begin campaigning for student votes. Students are encouraged to attend the vice presidential and presidential debates, which will both be held in March.

This year OUSC is putting a greater emphasis on elections and encouraging more students to vote.

"These 23 legislators and 11 executive board members literally represent about 20,000 students," said OUSC administrative assistant, Emily Collins. "They set the tone for the whole year."

Current president Samantha Wolf reflected on her accomplishments in the past year.

"What I am most proud of is the connection between student organizations," said Wolf. "In past years, people didn't work together very well, it was more about one organization trying to be better than the other. Now there's more of an atmosphere of togetherness, and I like to think that Robbie and I had a hand in that."

"We've all worked together to create something special within such a wonderful community," added vice president Robbie Williford. "That's one big memory that I'll carry with me from now on."

Now that this chapter in their lives is coming to an end, the Wolf/Williford duo plans to continue making a difference in their campus and community. "I'll still be doing things to stay involved and impact OU, but on a smaller scale," said Wolf.

Williford offered words of encouragement and advice to this year's candidates. "Don't be someone you think people will want to vote for. Be the person you know you are. And don't forget that you're a human. You'll always make mistakes, so learn from them. Be humble. Be fierce. Be amazing."
Voting for the 2013-14 president and vice president will take place March 18-20. Students are encouraged to vote online for their candidate at
oakand.edu/voteou
.

For more information about declaring candidacy for student body president or vice president, contact Emily Collins at (248) 370-4290.
Student Congress Legislators for the 2013-14 year will also be elected. Students interested in becoming an OUSC Legislator can find the application online at www.oakland.edu/ousc. Applicants are required to obtain 50 signatures of approval from Oakland University students. For more information on the application process, contact Patricia Rockentine at
parocken@oakland.edu
.
For more information about student issues, programs or getting involved with OUSC, view the website at
oakland.edu/ousc
.
OUSC election season is around the corner. Contenders for 2013-14 student body president and vice president must be declared by 5 p.m. on Friday, Feb. 1.

Created by Katherine Land - Deleted (land@oakland.edu) on Tuesday, January 29, 2013
Modified by Katherine Land - Deleted (land@oakland.edu) on Tuesday, January 29, 2013
Article Start Date: Tuesday, January 29, 2013