by Gillian Ellis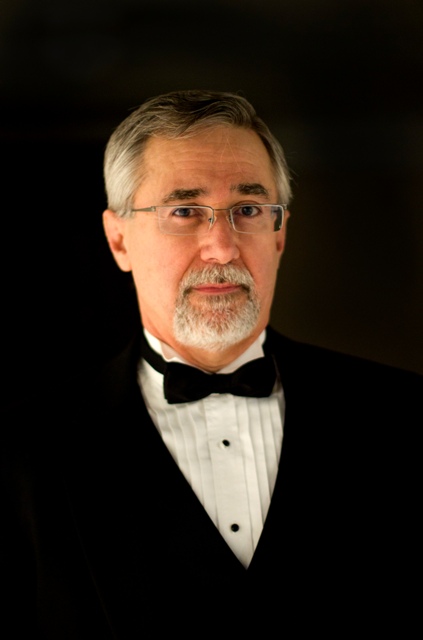 "I'm endlessly curious about music," says Terry Herald, our technical director and audio guru. That curiosity has led him in many diverse directions, but those who know Terry only in his behind-the-scenes production capacity may be surprised by the scope of his career, especially since his original musical motivation was not unlike many other young teenage boys. Most of them went on to become everything from architects to zoo keepers.

Terry recalls first being drawn to play a musical instrument when the Beatles invasion was in full swing and "all the girls were going crazy for Paul." He says, "I thought, I have to learn to play the guitar." He started at age 11 and by 16 was taking the subject very seriously and paying for his own lessons. When it came time for college he enrolled at Wayne State as a classical guitar performance major, switched to music theory in his sophomore year, and after finishing both his bachelor's and his master's degree, he began to teach at his alma mater.
He also launched his career in playing, arranging and composing, taking a few byroads along the way. Curious about having a classical guitar that was amplified, Terry began to build guitars, blending his technical and musical knowledge with woodworking skills. The result was a thing of beauty and a friend suggested he show his newly built guitar to jazz guitarist
Earl Klugh
who loved what he saw and heard. Klugh invited Terry to conduct his orchestra at an appearance at the Meadow Brook Festival. Following this gig, Terry worked with the Grammy Award winning guitar great as his music director and conductor, including an appearance with the Baltimore Symphony Orchestra. Read more about Earl Klugh and
hear his music here.
At Wayne State, Professor
Al Yungton
had been Terry's most influential mentor. In the mid-1980s he retired from teaching, began to accept more commissions to score movies and asked Terry to assist him. Their first major project together was a big PBS documentary special called
Air Force One: The Planes and The Presidents.
Terry contributed some original themes to this successful work but when the producer,
Elliott Sluhan
, decided to film a new, longer version of the documentary to include the Reagan era, with Charlton Heston as narrator, Terry took much more of the lead musically. He composed 90 percent of the new material and conducted the 40-piece orchestra that recorded the new score. They laid down 43 separate pieces of music in four hours in the Duns Scotus Chapel in Southfield. You can see the movie and hear the score at
this YouTube link.
"That was huge," says Terry and it gave his composing career a giant boost. In the years since then he has continued to compose for film. One of his favorite projects is
Journey to Justice
, which tells the story of Howard Trieste, who fled Nazi Germany as a Jewish refugee and returned as an interpreter working at the Nuremberg War Crime Trials where he came face to face with officials responsible for the death of millions of Jews, including his own parents. "It is a powerful story," says Terry, "and the challenge was to write music that would convey the emotional nuances." Read more about this 2006 documentary on the
movie's official website.
Terry also has a regular composition gig. He writes for Radical Entertainment, which is one of two companies that supplies music to CBS Sports. You might, for example, be unwittingly enjoying Terry's music as you relax during the weekend watching golf on television.

You would certainly be aware if you were listening to his commissioned orchestral music. His most recently premiered work was On Greenstone Island performed by the Warren Symphony Orchestra on November 11, 2012 at their 40th Anniversary Gala Concert. "Musical concepts are hard to put into words," says Terry, but he describes this piece as "highly descriptive, a musical memory of backpacking on Isle Royale." Asked if his music is "modern" Terry admits he does sometimes play around with tonality, but says, "I do write melodies."
Even today, with every imaginable kind of modern technology at his command, Terry says his melodies usually start out in pencil on a piece of staff paper without even an instrument at hand. He hears the melody in his head. This would presumably apply even to his most recent piece,
Battle Opera
, which he composed for the 2012 Youmacon Anime and Video Game Convention. Read more about
Youmacon here
.

Terry would be very happy to have more video game commissions, but meanwhile he stays busy doing something completely different. He is the director of the Lutheran Choralaires, a men's chorus based in Detroit. He also teaches classes here at OU – The History of Film Music and Audio Techniques. He is an audio expert, with a custom designed recording studio wing at his home. In addition to his own work, his records the music of friends and compositions by other people whose work he finds interesting. It is not a commercial venture.

He also continues to stroll the paths of his musical curiosity. His current project is, perhaps not surprisingly, reminiscent of his early work on that amplified acoustic guitar. It is a combination of woodworking and electronics; he is designing and building microphones. "The point is to make the microphone beautiful," Terry says.
Strictly speaking, it is only necessary for a microphone to fulfill its technical purpose. It does not have to look beautiful, it only has to produce a beautiful sound, but it is wonderful that it can be both. And as Terry's career has illustrated, it is wonderful where curiosity can lead you.
Photo by Megan Herald.