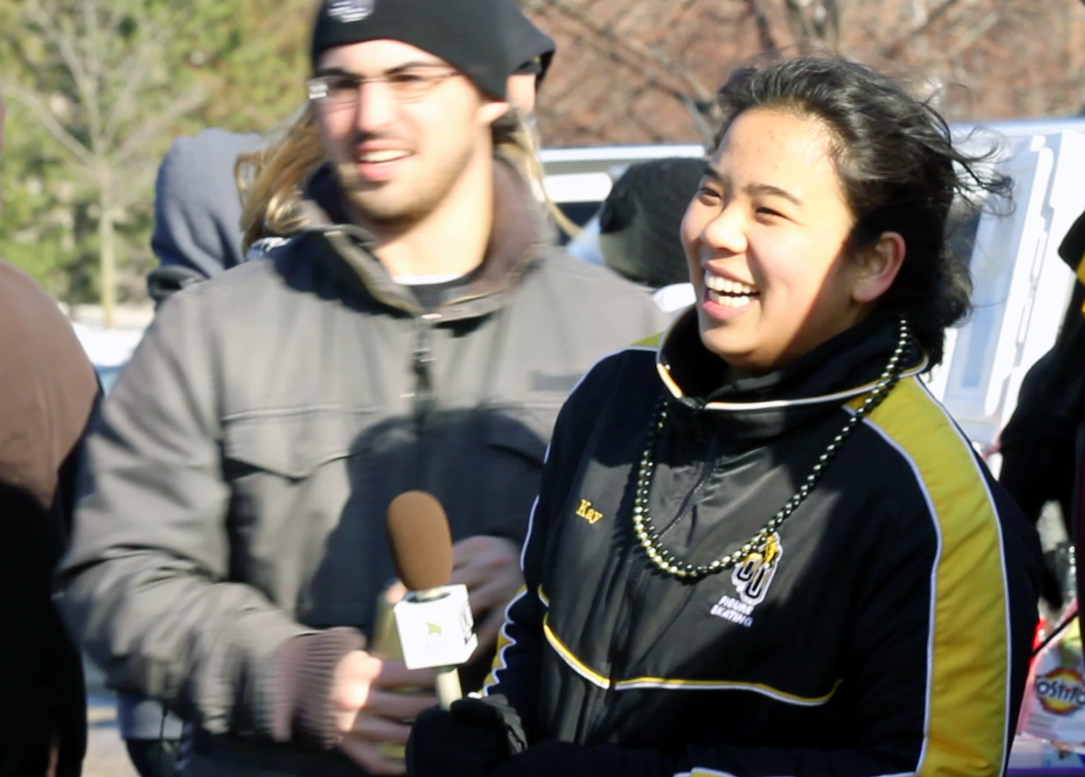 Nguyen is interviewed by OUTV at last year's Come Home to OU tailgate.
This year's Come Home to OU celebration will be a true homecoming for Kay Nguyen. The 2012 graduate plans to return to campus for the annual festivities, making the drive from her new city of Aberdeen, South Dakota.
The journalism and political science major plans to reunite with family and friends and take her place as part of an ever-growing Oakland University alumni base.
"It's so great to have a shared connection with other alums, especially when that group is constantly growing," Nguyen said. "The school gave me so many opportunities and I hope to one day be in the position to help OU students in the same way that other OU community members have helped me."
Nguyen began her Oakland career as a commuter, planning to save money and live at home. However, she soon found herself involved on campus, spending time at student life events, meetings and joining student organizations. Over the years, Nguyen hosted an OUTV show through the Student Video Productions club, participated with WXOU radio, competed with the Figure Skating Club of OU, and worked her way up from a reporter for the Oakland Post to her final role of editor-in-chief.
Nguyen's work at the student newspaper garnered several years of work experience and opened up Detroit area internship opportunities. Those years of reporting, writing and editing helped prepare Nguyen for life after college.
"I learned so much during my time as a reporter and editor for the student newspaper," she said. "I learned a lot about newspaper operations in a lab-learning environment. It made me a better journalist. All of those lessons have carried over to my job and I credit the Post as the launching pad that brought me more professional opportunities. My goal was to start a job in my chosen career field after graduation, and I feel so fortunate to have this opportunity to work as a reporter."
Shortly after graduation, Nguyen landed her current reporting job covering K-12 education for the American News in Aberdeen. She writes and shoots photo and video across 11 northeast South Dakota counties.
With homecoming on the horizon, Nguyen plans to head back to her Rochester Hills hometown and cheer on the Golden Grizzlies at the OU Student Body Tailgate Party this weekend.
Now in its fifth year, the 2013 Come Home to OU festival will feature honorary alumni co-chairs Joseph Angileri, SBA '80, president and COO of Compuware Corporation and Jacqueline Long, SON '81, who served on the OU Board of Trustees from 2004-2012.
This year's celebration includes a wide array of events on Friday, Jan. 26, and Saturday, Jan. 27, including an Alumni Welcome Reception, the Friday Night Live Comedy Show, the OU Alumni Association's annual Family Festival, Southpaw Isle Steel Band Concert, and a Casino Night.
The tailgate party, along with the Fraternities and Sororities Alumni Reunion and the Varsity O Reunion will take place from 1-4:30 p.m. on Saturday, Jan. 26, in the P-16 parking lot. Additionally, the Center for Multicultural Initiatives and Black Alumni Social will be held from 1-4 p.m. in the Oakland Center Gold Rooms.
For a complete listing of homecoming activities and events, visit the website at
oakland.edu/comehome
.
Alumna and former editor of the Oakland Post Kay Nguyen plans to Come Home to OU this weekend. She will travel from South Dakota, where she works as a reporter.

Created by Katherine Land - Deleted (land@oakland.edu) on Tuesday, January 22, 2013
Modified by Katherine Land - Deleted (land@oakland.edu) on Tuesday, January 22, 2013
Article Start Date: Tuesday, January 22, 2013