Friday, January 11, 2013
SAE team to represent OU at North American International Auto Show
By Eric Reikowski, media relations assistant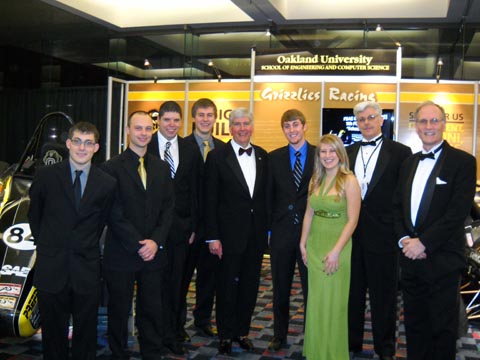 Gov. Snyder (center) with the OU SAE team at the 2012 NAIAS. This is the team's third appearance at the auto show.
For the third year in a row, the Oakland University Society of Automotive Engineers (SAE) will display vehicles at the North American International Auto Show. The group's 2011 and 2012 formula style race cars will be showcased alongside some of the world's finest automobiles Friday Jan. 18, through Sunday, Jan. 27, at Cobo Center in Detroit.

Designed and built by Oakland students, both vehicles have impressive track records. The 2011 car claimed 11th place out of 84 SAE teams that competed in Fontana, Calif., while the 2012 vehicle notched two third place showings at competitions in Canada. Last June, the team traveled to Lincoln, Nebraska and finished 13th in a field of 84 teams.

Overall, Oakland is ranked 51st out of more than 500 collegiate SAE chapters worldwide. The team currently ranks 13th in the nation and second in the state, behind the University of Michigan-Ann Arbor.

Tom Garvey, OU SAE president, said the chapter's diversity has fueled success in all aspects of competition, from engineering to management and marketing.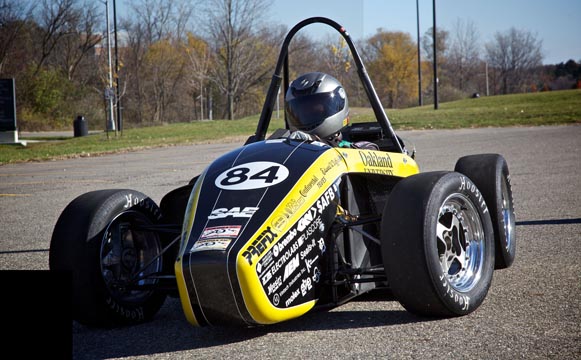 SAE's 2011 and 2012 formula style race cars will be on display Jan. 18-27.
"This year, we've incorporated 15 new members from various disciplines," Garvey said. "We have several new business students on the team who handle finance, marketing, sponsorships and sales presentations."

Team members will staff the auto show exhibit, located in the basement of Cobo Center. In addition, OU Admissions representatives –joined by "The Grizz"—will be available to answer questions and provide information about the university during the show's Education Day from 10 a.m. to 3 p.m. on Wednesday, Jan. 23.
Oakland's SAE chapter regularly participates in many events, including the Woodward Dream Cruise, Concours d'Elegance of America, Rockin' Rods in Rochester and the SAE World Congress at Cobo Center. The team is currently preparing its 2013 vehicle for an SAE event at Michigan International Speedway this spring.
To learn more about Oakland's SAE chapter, e-mail
ousae@oakland.edu
or visit the website at
grizzliesracing.com
.
For more information about the North American International Auto Show, download the free iPhone and Android mobile app, sponsored by Oakland. OU's Mary Beth Snyder, vice president for Student Affairs and Enrollment Management discusses the mobile app with WDIV Local 4 Click on Detroit
in this video
.
For the third year in a row, OU's Society of Automotive Engineers will display vehicles at the auto show. Additionally, OU has sponsored the free mobile app.

Created by Katherine Land - Deleted (land@oakland.edu) on Friday, January 11, 2013
Modified by Katherine Land - Deleted (land@oakland.edu) on Friday, January 11, 2013
Article Start Date: Friday, January 11, 2013