By Eric Reikowski, media relations assistant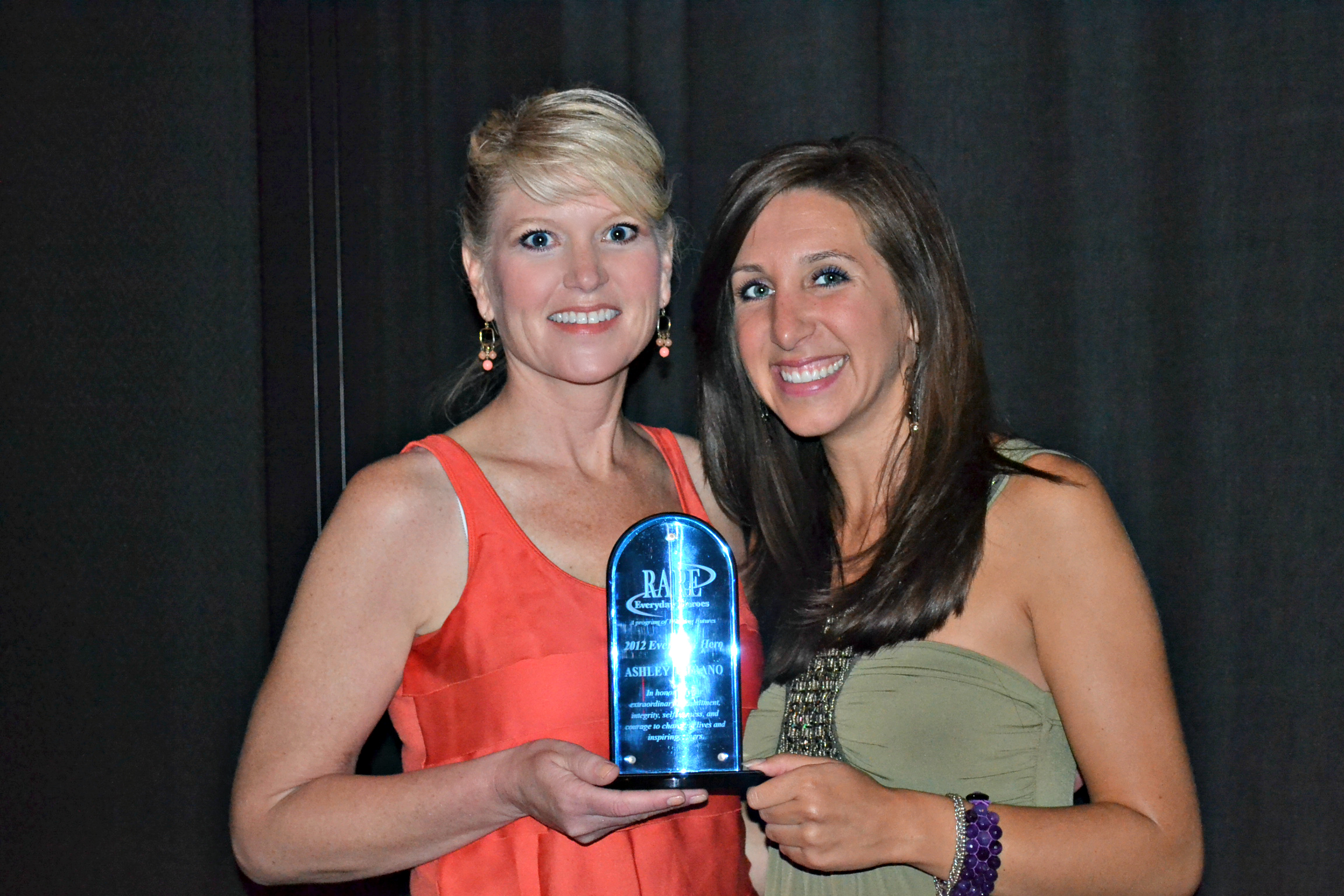 Tarter (left), vice president of Winning Futures, presents Lorano with a RARE Everyday Hero Award for her charitable work.
The season of giving never ends for Ashley Lorano. For the second straight year, the Oakland University alumna sent an early Christmas gift to 12 orphaned children in Hyderabad, India. Destitute and living on the street, their lives were changed when they became residents of a new Angel House Rescue Orphanage, which opened this past December through Lorano's charitable efforts.
Lorano started the organization following the death of her friend and fellow OU student, Daniella Saveski, from a rare form of cancer. Like the first orphanage, the follow up campaign honored Saveski's memory and provided a dozen orphans with a safe home, caring parents and hopeful future.

"Working with Angel House has been an immensely rewarding and eye-opening experience," said Lorano. "It's truly a blessing to carry on Daniella's legacy by providing these children with resources that many of us take for granted."

After deciding to pursue a second orphanage, Lorano organized her signature Party with a Purpose fundraiser — the third one in three years—to bring in donations needed for the new shelter. More than 200 people turned out for the backyard gathering that helped raise $16,816 to transform the lives of children across the world. To mark their homecoming, the children received postcards with personalized messages from Party with a Purpose supporters, along with purple bracelets in memory of Saveski.

Like the previous year, the 2012 dedication took place as part of Angel House's "Christmas in India" celebration.
Since establishing its first shelter in December 2010, the Rochester (Mich.)-based nonprofit group has opened 35 orphanages and housed almost 1,000 children. According to the Angel House website, each child is provided with nutritious meals, clean drinking water, a bed, clothes and shoes, education, recreational activities and more. The organization is committed to rescuing India's orphan population – which reportedly numbers around 25 million – from perils of poverty, disease and exploitation.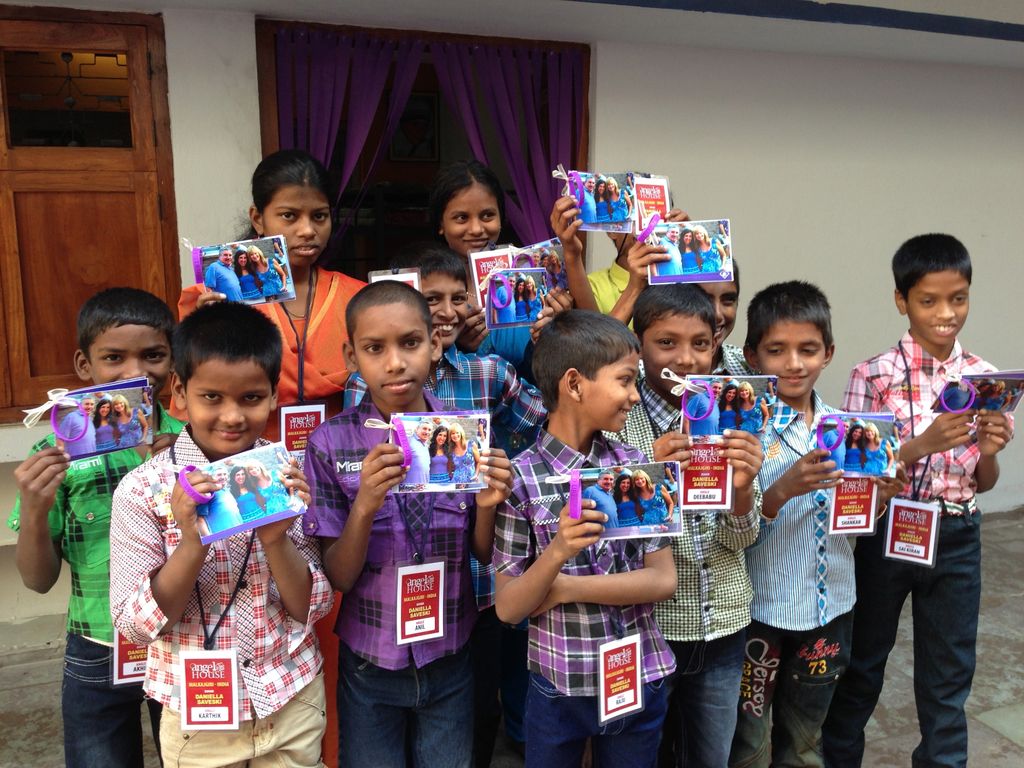 Lorano's work helped establish Angel House Rescue orphanages in India.
When talking about these issues, Lorano describes her passion for serving others. She says Saveski – who passed away in 2009 – remains a galvanizing presence in her life and work.

"When I lost my best friend, it opened up my heart to all the tragedy and heartache in the world," Lorano recalled. "I wanted to find a way to help others through my pain. Whether it's the orphan without a home, the voiceless victim being forced into slavery, the city stricken with grief, there's so much to fix in the world, so many issues that need attention."

And plenty of hearts that need healing.
In the wake of the Connecticut school tragedy, Party with a Purpose reached out to a church in the area and started a campaign to send "Postcards of Hope" to families of the victims. More than 700 purple-hued postcards emblazoned with messages of peace and comfort were sent to the families in the midst of their grief.

"I am so thankful for the hundreds of compassionate men, women and children who came together to write notes of encouragement and hope to the dear families in Newtown," Lorano said. "We are praying that all those affected can find solace in a time of deep sorrow."

While touching the lives of those around her, Lorano's humanitarian endeavors continue to draw praise from civic and community organizations. This past summer, she was honored as a RARE Everyday Hero by Winning Futures, a nonprofit youth mentoring program. The award celebrates everyday people in the workplace who are changing lives and inspiring others.

"Ashley is a true reflection of what the RARE Everyday Hero Award stands for," said Laurie Tarter, vice president for Winning Futures. "She strengthens others without having accolades and awards in the back of her mind. She is a gift to this world. We are all better off because of her."

Through her efforts, Lorano has been named a Distinguished Volunteer by the Association of Fundraising Professionals and received the Civic Leadership Award from the Twilight Benefit Foundation.
A champion of many causes, she has been active in Winning Futures for several years, mentoring high school students in southeast Michigan. She has raised money in support of Stand up to Cancer and also served as creative project coordinator for Live to Give Foundation, a nonprofit group of social entrepreneurs working to revitalize Detroit. Most recently, Lorano became a supporter of the Michigan Abolitionist Project, which seeks to end human trafficking in Michigan and beyond.

Despite all the success, Lorano says she has no plans to slow down.

"This is what I am called to do," she said. "I can't imagine ever stopping."
For more information on Lorano's charitable projects, contact her at
alorano@gmail.com
.
Through her charitable work, alumna Ashley Lorano has helped to establish another new Angel House Rescue Orphanage in India.

Created by Katherine Land - Deleted (land@oakland.edu) on Tuesday, January 8, 2013
Modified by Vadim Garber (vigarber@oakland.edu) on Thursday, March 21, 2013
Article Start Date: Tuesday, January 8, 2013