Monday, January 7, 2013
Women's basketball team raises awareness, funds for charity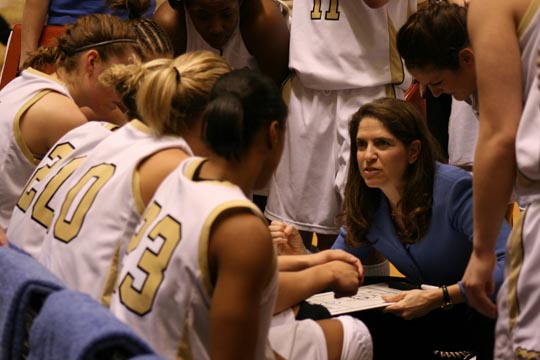 OU women's basketball coach Beckie Francis (center).
The Oakland University women's basketball team will host the inaugural Awareness Without Fear Game at 2 p.m. on Saturday, Jan. 12, when the Golden Grizzlies face North Dakota State at the Athletics Center O'rena.
The game will be a benefit to raise funds, support and awareness for HAVEN and CARE House of Oakland County.
"This is a fantastic opportunity for our team, athletic program and university to get involved with supporting an important cause, which affects the lives of so many people," said Oakland head coach Beckie Francis. "I believe it teaches our players that we can use sports to make a positive impact in the lives of others. Everyone involved with the team is excited to do our part to support both CARE House and HAVEN."
Oakland will donate a portion of every ticket to sold to CARE House and HAVEN. OU will also donate all proceeds from the halftime contest on Saturday. There will be booths set up at the O'rena to allow fans to donate directly to both organizations on the day of the game.
Nationally recognized speaker Erin Merryn will join the Oakland sideline as an honorary coach for the game. Merryn has been a key advocate for childhood sexual abuse victims and helped to pass legislation in Michigan earlier this year, which requires schools to educate children on ways to report abuse. The legislation, which has been referred to as "Erin's Law," passed both the Michigan House and Senate and is waiting to be signed into law by the governor.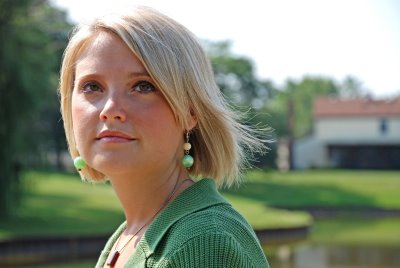 Speaker and child abuse victims advocate Erin Merryn.
HAVEN serves as a safe place for victims of domestic violence, sexual assault and child abuse.
Click here
for more information about HAVEN.
CARE House works to oppose childhood sexual abuse through advocacy, community outreach, intervention, prevention and treatment. Learn more about CARE House at
carehouse.org
.
Websites are available to accept donations before the Saturday game:
Click here
to donate directly to HAVEN.
Click here
to donate directly to CARE House of Oakland County
Donations will be accepted at the game via cash or check. Checks should be made payable directly to either CARE House or HAVEN, as NCAA rules prohibit Oakland from accepting donations on behalf of these organizations.
The OU women's basketball team will host a game to raise funds, support and awareness for HAVEN and CARE House of Oakland County, set for Jan. 12.

Created by Katherine Land - Deleted (land@oakland.edu) on Monday, January 7, 2013
Modified by Katherine Land - Deleted (land@oakland.edu) on Monday, January 7, 2013
Article Start Date: Monday, January 7, 2013