by Gillian Ellis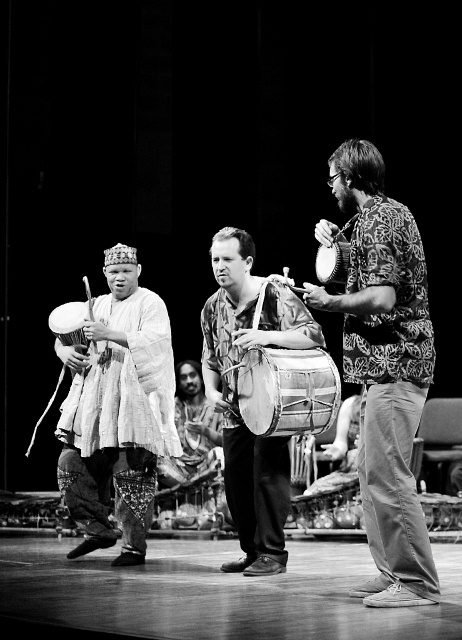 Mark Stone
graduated from Waterford Kettering High School with a full scholarship to study engineering at the University of Michigan. During his freshman year of college he did take some engineering classes, but by his sophomore year he had given up all pretense of a future as an engineer – along with his scholarship. He switched to percussion performance and never looked back.
Mark is the world music and percussion coordinator at OU. He began his life as a musician at age six when a neighbor,
Phil Shutes
, offered to teach him to play the marimba. Or as Mark more accurately notes, "The marimba and chess."
In a neighborly kind of way, the Stone and Shutes families traded favors. Mark's father helped Phil, who had multiple sclerosis and was in a wheelchair, around the house, and Phil, a professional percussionist and music therapist, gave his neighbor's son free lessons. Mark still recalls standing at the marimba next to Phil's wheelchair playing challenging musical pieces. Even as a young boy Mark showed musical promise, something Mr. Shutes must have noted with pleasure, but he died when Mark was in fifth grade and so would never know just how much he shaped his student's destiny. Looking back, Mark acknowledges that while he may have become a musician without Phil Shutes in his life, it is most unlikely he would have become a marimba player.
"It's not a household instrument," says Mark. "Most young percussionists won't even encounter one until they reach high school." And the marimba in the Shutes household was far from ordinary. It was one of the finest ever made, created for the 1933 World's Fair "Century of Progress Exposition" in Chicago, a rare survivor of the 101 King George Marimbas played by Clair Omar Musser's Marimba Symphony Orchestra . Mark says, "It had a great sound, very rich, and Phil was a great teacher. I loved the marimba."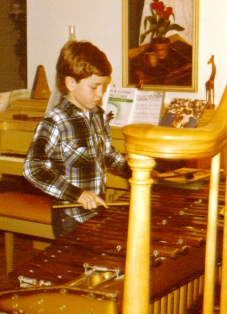 Mark also had his own secondhand marimba at home, which he never had to be cajoled to practice. By the time he reached fifth grade, he was so accomplished and so accustomed to playing melody that just playing rhythm on the snare drum in the school band wasn't too exciting but he says, "I liked percussion so much I hung in." By eighth grade Mark had saved enough money from working his paper route to buy his first drum set, and with lifelong best friend
Jayson Smith
on guitar, he was playing rock and roll. He recalls Led Zeppelin and Rush were big favorites back then. He was also already composing.
Mark and his friends were in demand for high school parties but at age 15 he played his first professional gig with a blues band in Detroit – Jimmy Jackson and the Blues Connection. Since he was still unable to drive, Mark had to be picked up by the band's piano player who had recruited him. In addition to these free time activities he was also very busy in high school, playing in the marching band (much more fun now than beginning band had been in elementary school), as well as in symphonic band and jazz band. Music had become his life.
So at Michigan, even as an engineering freshman, Mark played in the jazz combo and marching band. When he changed major his mentor was Professor
Michael Udow
, who retired from the U of M in 2010. "He was hugely important in my life," says Mark. "He opened up the whole world of percussion for me and all his students." In Mark's case, on the road to becoming a world music specialist, that "whole world" was quite literal. Under Professor Udow's guidance Mark was introduced to the percussion of Africa and Asia. But the "inspirational teacher" encouraged every student to follow his own path, wherever it led. Mark says, "He had no interest in producing clones of himself." Michael Udow wanted his students to find their own voice and develop a great sound as a percussionist, no matter what genre of music they were drawn to. "He would also attend every one of your performances, even if it was in a coffee shop."
Mark spent his junior year studying abroad in Ghana, initially studying drum traditions. But while in Ghana, Mark heard
Bernard Woma
playing Dagara gyil and was immediately drawn to it. "During the second half of my time in Ghana I really focused on the gyil." The gyil is a traditional West African xylophone, which Mark says is "the grandmother of the modern marimba." The American marimba was originally developed in Latin America by African slaves. To read more about the instruments and Bernard Woma, who is a highly respected figure in Ghana and in the field of world
percussion read here.

While he was in Ghana, Mark also met Professor
Phil Faini
who was traveling and collecting instruments for the world music program he was building at West Virginia University. After completing his bachelor's degree, Mark headed for the hills to take full advantage of Professor Faini's world music center as he worked on his master's degree in percussion performance. "There was a huge steel drum program," he says. "
Ellie Mannette
was there," referring to the man who is the father of the modern steel pan instrument. It was in West Virginia, and not the Caribbean, that Mark learned to play the steel drum.
Finishing off his master's degree, Mark rounded off his formal education with a year in Uganda as a Rotary Ambassadorial Scholar, studying the music of East Africa before returning to Michigan to look for opportunities to perform and teach. He soon found both.
Don and Ann Stone, Mark's parents, are dedicated educators and teaching has always been important to Mark, but he believes that a world musician is also a lifelong student. Mark recently returned from a tour of Southern India where he appeared with the
Carnatica Brothers, Shashikiran and Ganesh,
who perform on traditional Indian instruments. He joined them on stage playing American and African instruments, which transformed for him his previous academic study of Indian classical music. In a recent interview in
The Hindu
newspaper Mark summed this up. "The process of collaborating across diverse musical traditions is one of alternatively teaching and learning. I bring a musical idea to the table and they improvise it in their musical language and vice versa. Eventually we begin speaking and understanding each other's language."
In his own words, Mark Stone is "a local kid," born in Pontiac, raised in Waterford and still living locally, but he has undertaken many journeys both geographic and musical, and he has many more still to make. He began teaching at OU in 1998 and in the years since then, he has built an impressive performance resume and touched the lives of many students, opening up the world for them, as his teachers once did for him.
Photo: Upper, (left to right) Bernard Woma, Mark Stone and Patrick Fitzgibbon performing at a recent World Music Concert. Photo courtesy of Dresden Park Photography.
Lower, Mark playing the marimba, aged 10. Family photo.
Join us for Percussion Day, open to all, junior high through adults, free of charge, on January 26, 2013. Registration required.