Thursday, December 6, 2012
Survey Conducted to Evaluate Libraries' Resources and Services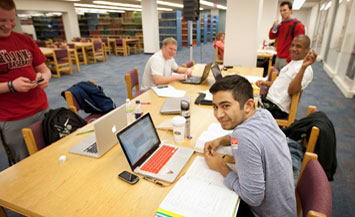 During the Fall 2012 semester, the Libraries conducted a survey to help with the evaluation of library resources and service quality. All OU students, faculty, and staff were invited to participate in the study, which began on October 29 and was available through November 21. The survey, known as LibQUAL+™, assesses users' expectations and satisfaction with collections, services, access and space, and is being used at hundreds of participating universities and colleges throughout the world. Sponsored by the OU Libraries and administered by the Association of Research Libraries, the study is being led by Professor Kris Condic, Coordinator of Research Services and Education Librarian.
"We hope to make library improvements based on the results of the survey," said Dr. Lim, Dean of University Libraries. "Although we have expanded our online resources, improved our spaces, added new technologies, and opened a café, we want to hear from our users and consider other ideas for enhancing the Libraries' offerings." She continued: "Student and faculty responses, in particular, will help us understand better how the OU community rates our services and will allow us to compare OU's results against other libraries to determine best practices."
The libraries offered several prizes to thank OU affiliates for participating. Winners were randomly selected from participants completing the survey. Among the prizes was a reserved parking spot for one lucky OU student for the months of December and January. Almost 1900 questionnaires were received so the response rate was successful. In addition to answering the programmed questions, over 700 users added comments in the available box which themselves are a great source of information as the Libraries go forward.
During the Fall 2012 semester, the Libraries conducted a survey to help with the evaluation of library resources and service quality. All OU students, faculty, and staff were invited to participate in the study, which began on October 29 and was available through November 21. The survey, known as LibQUAL+™, assesses users' satisfaction with collections, services, access and space, and is being used at hundreds of participating universities and colleges throughout the world. Sponsored by the OU Libraries and administered by the Association of Research Libraries, the study is being led by Professor Kris Condic, Coordinator of Research Services and Education Librarian.

Created by Alexandra Bosch (ambosch@oakland.edu) on Thursday, December 6, 2012
Modified by Frank Lepkowski (lepkowsk@oakland.edu) on Tuesday, February 26, 2013
Article Start Date: Thursday, December 6, 2012