Thursday, December 6, 2012
Annual AUFD campaign to run through Friday, Dec. 14
By Eric Reikowski, media relations assistant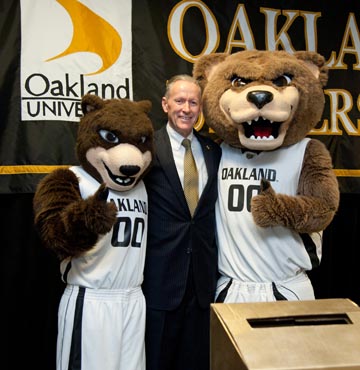 University President Gary Russi joins mascots "The Grizz" and "Clawzz" at the AUFD launch event this fall.
The Oakland University community can contribute to the 2012-2013 All-University Fund Drive campaign until Friday, Dec. 14.
AUFD organizers are seeking to achieve campaign goals of $280,000 in annual gifts and $350,000 in planned gifts.
To achieve these goals, organizers are looking to increase the total donors by at least five percent over last year through more hands-on giving opportunities. Employees can make credit card gifts and payroll deduction pledges online via the AUFD website at
oakland.edu/aufd
.
This year's campaign got off to a strong start with a Launch Party Breakfast. The event helped raise $58,840 in annual gifts for OU, the United Way for Southeastern Michigan and the Black United Fund.
This amount represents 21 percent of the campaign's total goal, according to Eric Barritt, vice president for Development, Alumni and Community Engagement.

"It's amazing to have this kind of momentum from the start for an employee campaign," Barritt said. "I'm so impressed with the people who chose to make a gift that first day. They are leading the way for the university with their support."

The campaign also received one planned gift of $10,000 at the launch party. University President Gary Russi was on hand to make the first official gift of the campaign and was joined by other university officials who pledged their support. AUFD Co-chair Dr. Mary Beth Synder told party attendees about her motivations for supporting the campaign.

"I have 19,740 reasons to give," she said, referring to the university's student population.
AUFD organizers are seeking to achieve campaign goals of $280,000 in annual gifts and $350,000 in planned gifts.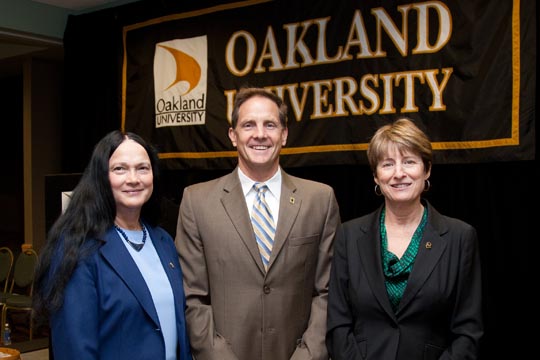 Three of the AUFD's co-chairs (left to right): Susan Awbrey, Tracy Huth, and Mary Beth Snyder.
Dr. Russi will again generously match gifts made to the university with 50 cents on the dollar up to $5,000. A President's match of $5,000 will also be given for any qualified planned gifts—including deferred gifts made at the end of life—of $10,000 or more. Donors may direct gifts to the program of their choice or make an unrestricted gift to the OU Fund.

This year's AUFD co-chairs are Dr. Synder, vice president for Student Affairs and Enrollment Management; Susan Awbrey, interim vice president for Academic Affairs and provost; Mohan Tanniru, dean of the School of Business Administration; and Tracy Huth, director of Athletics. The retiree co-chairs are Pat Nicosia, former director of Budget and Financial Planning and Judy Brown, professor emerita of anthropology.
For more information regarding the
AUFD
, or how to make a gift, contact Annual Giving at (248) 364-6160 or
mcvay2@oakland.edu
.
There is still time to participate in the 2012-13 All-University Fund Drive. The campaign will run through Friday, Dec. 14.

Created by Katherine Land - Deleted (land@oakland.edu) on Thursday, December 6, 2012
Modified by Katherine Land - Deleted (land@oakland.edu) on Thursday, December 6, 2012
Article Start Date: Thursday, December 6, 2012