by Dave Groves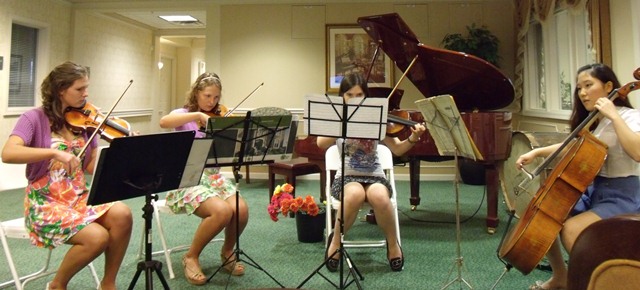 In an age of cell phones, the Internet, cable television and nearly limitless entertainment venues,
Peggy Chiu
wanted her children,
Jeffrey
and
Jasmine
, to have a creative outlet that relied on little more than their own knowledge, skills and imagination. "Sometimes there is no iPhone, no computer and even no electricity, but there is always music," the Oakland University computer facility manager said. With this in mind – and as hundreds of parents have done over the last decade – Chiu registered her children for music lessons in the Music Preparatory Division of the Department of Music, Theatre and Dance at OU.
Managers of this innovative program – which pairs students with highly accomplished, college level music instructors in a variety of structured educational settings – are planning a grand celebration of its10th anniversary with a student gala recital and community open house on Sunday, December 16. Parents and prospective music students from throughout southeastern Michigan are invited to witness the success with which Music Prep students develop their musical understanding and skills, as well as to speak with current students, instructors and parents about the benefits of Music Prep instruction.
"Whether you're a young child, a middle or high school student, or someone who wants to get started with or return to music instruction later in life, our goal is to foster a love of music that you can always come back to," said
Bibianne Yu
, director of Music Prep. "We've seen amazing growth in this program over the last 10 years, and we believe it's a result of our unique music education philosophy: We strive to show our students high musical standards, give them the tools to fully understand and appreciate music so that they can find their own musical confidence, enjoyment and satisfaction," Yu added. "Our approach of providing many musical experiences encourages students to find their individual musical identity and allows us to grow with each student as they nurture their lifelong love of music."
All of the program's instructors hold a performance, pedagogy or music education degree specializing in the instrument that they teach. This, and the fact that Music Prep stresses high expectations, an individualized and supportive learning environment, and exposure to other students with similar interests are reasons that voice instructor
Elizabeth Medvinsky
has been dedicated to the program since its inception. "Coming here enables students to be in a community of other children and adults who have that same level of dedication to serious music education. They feel more confident because they know they're not alone," she said. "Also, the instructor credentials in the Music Prep Division are set high. You know walking in the door here that the knowledge and teaching skills of your instructor have already been very well checked."
The ability of Music Prep teachers to tailor instruction to the unique needs of their students is something that
Sophie Wang
, the mother of nine-year piano student
Jonathan Sun
, said she has been grateful for since he started as a kindergartener. "Miss Bibianne (Yu) designed Jonathan's lessons by herself. At his early learning stage when he needed guidance in his focus, she put a different figure drawing every week – like an apple tree or a hippo – on a sheet of paper with 10 to 12 learning goals to accomplish, and Jonathan got to put a sticker on the drawing when the goal was completed," Wang explained. "At the end of the class, not only was he proud of a great lesson, but he also had a picture to show me! With this individualized teaching and learning, Jonathan has kept his passion and love for music."
Many instructors are or have been members of professional music ensembles such as the Detroit Symphony Orchestra (DSO), with which Music Prep maintains a truly unique partnership.
Charles Burke
, senior director of education and artistic director of Civic Youth Ensembles at the DSO, said that it has been a great pleasure to work with the Music Preparatory Division, particularly because he knows that Music Prep students looking to perform in the Civic Youth Ensembles come inspired by the possibilities of what they can experience and achieve.
"The Music Preparatory Division has incredibly passionate teachers – people who are earnestly interested in not just teaching music at a very high level, but bettering students' lives through their appreciation of it," he explained. Burke added that the Music Prep-DSO partnership should serve as a model for music education programs throughout the country. "Both of our institutions are working hand in hand, one on one, to raise the value of music education in our communities. We know there is some work to do there, and I believe we're on the right track to get that accomplished."
Music Prep also maintains an active partnership with the Oakland Youth Orchestra (OYO).
Joanne Walle
, its executive director, said that the relationship has helped ensure that students are prepared to excel in the OYO. Weekly chamber ensemble rehearsals and theory classes have given Music Prep students tremendous learning experiences. "Students need to be served in different ways in order to appreciate music in all its facets, and performing in an ensemble is a great way to help the move students to the next level," she said. "By having students play with other students and other instruments – we have another way to encourage them to play throughout their lives just for the love of music."
Students also have the advantage of being able to perform at regular recitals in a true music hall. This is something cello instructor
Nadine Deleury
sees as distinctly advantageous. "This is not a competitive environment, but a very friendly way of getting students motivated to do their best," she explained. "It is a big deal for students to be able to perform on the stage of Varner Recital Hall, and they're very excited to keep learning after they see what other students at every level can do."
In addition to highly structured private lessons and individual and group performance opportunities, Music Prep students can take part in summer music camps and take their skills into the community, such as with performances for senior citizens at a local housing facility. Music Prep students have been invited to perform at the Waltonwood at Main senior citizens community in Rochester for five years running.
When considering the accomplished instructors, rigorous instruction planning, the convenience of several locations where lessons are provided, student performance opportunities and lesson costs that are highly competitive with those of other instruction providers, many believe that Music Prep provides value that's difficult to beat. "I think this is something you don't get from any private instructor," Chiu said. Noting that she has referred dozens of students to the program over the years, she added, "I really think more people should know about it. We have great facilities and excellent teachers. You won't find anything better than Music Prep."
Yu said that over the past decade, she and other instructors have been blessed to be able to teach in such a nurturing and rewarding environment. "We're able to see students shoot beyond their own expectations and even ours, and it's just an amazing feeling to witness their sense of accomplishment," she said. "We welcome all musicians to push themselves to the highest level of achievement they seek. That's what the Music Prep Division's focus has always been."

Read more about Music Prep's students and the upcoming 10th anniversary celebration.
Photo: Music Prep students play at Waltonwood at Main in Rochester. Photo by Bibianne Yu.