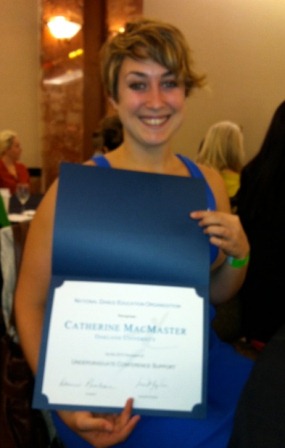 Recent B.F.A. dance graduate ('12) Kayt MacMaster presented her work at the highly prestigious National Dance Education Organization (NDEO) conference in Los Angeles last month. Faculty members in attendance at the conference were very proud of her. Instructor Debra Bernstein-Siegel said, "Kayt's presentation was terrific and watching her field questions and interact with others was wonderful. She is a great representative of the education students receive at OU." Assistant Professor Ali Woerner said, "We could not be more proud of her professionalism and maturity. She spoke of her trip to Ghana and her experiences through her choreography cross culture. She represented Oakland beautifully! Because of the scholarship she received to come to NDEO she was presented an award at the morning brunch. Kayt has truly thrived here [at the conference] networking with fellow artists, but more importantly finding inspiration from other presenters and artists to develop new pathways and advocacy within the arts." Kayt has moved to New York to pursue a career in dance and choreography and we hope to follow up with her soon. Read more about NDEO here.
Another delighted faculty member is Professor John-Paul White who reported that OU's voice students had once again been very successful at the National Association of Teachers of Singing (NATS) State Vocal Competition. "I am pleased to report that Oakland University voice students had great success at NATS. From several hundred singers representing colleges and universities statewide, Oakland came home with five prizes. We are very proud of these young singers and the way they represented OU to the rest of the universities in the state: Amanda Walker, First Place - Freshman Women; Mark Hosseini, First Place - Freshmen Men; Tim Brown, Third Place - Freshmen Men; Nicolette Book, Second Place - Senior Women; Constantine Novotny, Third Place Senior Men. Congratulations to all.
Congratulations also to department chair Jackie Wiggins whose most recently published work is now available. She has an invited chapter in the highly prestigious Oxford Handbook of Music Education entitled "Creating in Music Learning Contexts," which was written with co-author Magne I. Espeland, professor of music education at Stord/Haugesund University College in Norway.
Two former OU doctoral students also contributed invited chapters in the Oxford Handbook. Sharon Davis (Ph.D. '08), an elementary music teacher in the Loudoun County Public Schools in the Washington DC metro area, contributed "Instrumental Ensemble Learning and Performance in Primary and Elementary Students." Alex Ruthmann (Ph.D. '06), assistant professor of music education at the University of Massachusetts - Lowell, and the late Steve Dillon, music professor from Queensland, Australia, contributed "Technology in the Lives and Schools of Adolescents." The editor of this section of the Handbook, and also a contributor, was Kathy Marsh, from the University of Sydney. Sharon Davis, Magne Espeland, Alex Ruthmann, and Kathy Marsh have all been featured speakers at Oakland University over the years, working with music education students and music teachers from the region. You can read more about the Handbook on the Oxford University Press website here.
We told you last month that Tom Mahard, special lecturer in theatre who teaches a very popular acting class for non-majors, had been cast in the historical movie Beyond the Mask. Tom has completed his days of filming, some of which were done at Meadow Brook Hall. You can see Tom in character as Doctor Harrow in the film's blog here. Look for Day 43, which was published on October 29. And you can see Tom on stage as Scrooge at Meadow Brook Theatre in their annual production of A Christmas Carol, running until December 23.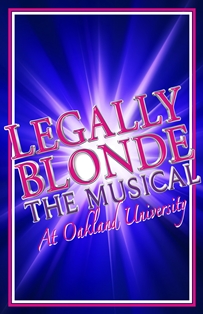 Electronic announcements will be forthcoming, of course, but those of you who rely on our season brochure to keep track of our events will want to note that we have made a major change to our theatrical season. The show originally scheduled to run from Thursday, January 31 until Sunday, February 10, 2013 ( Good News!) will now be replaced with Legally Blonde. All dates and times are as announced in the brochure and online. This show will be directed by guest director Dave Campbell. You can read more about Mr. Campbell on our Guest Artists page here. Legally Blonde is already in pre-production and tickets can be purchased now. The show is a feel good musical comedy about a girl who does not take "no" for an answer. When her boyfriend dumps her for someone "serious," Elle puts down the credit card, hits the books, and sets out to go where no Delta Nu has gone before: Harvard Law. Along the way, Elle proves that being true to yourself never goes out of style. It has music and lyrics by Laurence O'Keefe and Nell Benjamin, book by Heather Hach and is based on the Amanda Brown novel and the 2001 film.
And then, imagine yourself as far away you can from the frivolous world of the sorority sisters of Legally Blonde and you will find yourself ready for our final news story. We want to tell you about one of our voice majors who was featured recently in the Oakland Post for her extracurricular activities. Through a program at her church, Molly Bruner traveled to India, where she volunteered with children living in orphanages. It was a life-changing experience for Molly who is determined to continue to help. She is planning fundraisers to continue the work, including "Opera for Orphans," which she hopes to schedule for the late winter or early spring with the help of her fellow voice students. Watch this space. We will let you know once we have the date, so you can support Molly's volunteer work and hear our students. Read more about her time in India here.
Photo: Kayt MacMaster receives her award at the NDEO conference. Photo by Debra Bernstein-Siegel
Legally Blonde poster by Jeremy Barnett