by Gillian Ellis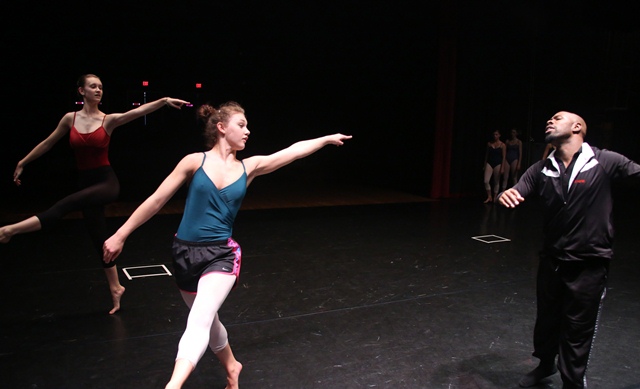 Assistant Professor
Rodney A. Brown
, a member of the dance faculty at the Ohio State University and a highly respected choreographer, planned to be an opera singer. He attended Colonel White Performing Arts High School in Dayton, Ohio, and a performing arts middle school before that, because he was a member of the Dayton Boys Choir.
Not that he hadn't always danced. He has powerfully strong early childhood memories of standing on his mother's feet while she danced at family gatherings. "Dancing was viewed as a way to build community," he says. And when as a teenager he joined a drill team, he quickly abandoned the traditional male role of drumming and began to dance with the girls. But he came to studio dance quite late.
In his junior year of high school, Rodney went to pick-up a cousin from a modern dance class and when the teacher saw him "chuckling" he found himself invited to try the steps out himself. It wasn't a revelatory moment; he says he wasn't very good. But the following year he had a hole in his schedule and preferring to take any arts class over an academic class, Rodney signed up for modern dance.
Soon, Rodney began to take additional classes at Jeraldyne's School of the Dance, the official training school of Dayton Contemporary Dance Company (DCDC) where artistic director
Debbie Blunden-Diggs
asked him to audition for the second company, a pre-professional group, despite the fact he was still in his first year of formal training. Even as the people around him were recognizing his gift, Rodney began to feel he had found his artistic home. "The dance claimed me" he says, referencing the title of the biography of African-American dance pioneer Pearl Primus.
Rodney came to Oakland University still undecided about his major but aware there was a dance program. He was not, however, aware that Associate Professor
Gregory Patterson
was teaching at OU. Rodney says, "I had never met an African-American man who taught at a university before, and especially not dance. I know Greg carefully nurtured all his students but he was especially influential for me. He taught in a way I could understand. I felt like a fish on land. There were not many people of color at OU then and I had come from a high school that was almost exclusively African-American. The technical dance training available at OU had a lot to do with my uneasiness also. I had never experienced post-modern dance before. It was new and I was not open to it. Greg's approach to teaching felt familiar to my first instructors. This influence encouraged me to take a second look."
But the first time around, even Professor Patterson's careful mentoring was not enough to keep the future Professor Brown at OU. "I wanted to dance, but I wanted to do it my way," he says. His first formal training had been based on the Lester Horton technique and he was chafing at what he saw as OU's focus on post-modern dance. He decided to quit and travel to New York to take classes at the famed Alvin Ailey American Dance Center and School. But it was 2001, and while Rodney was working with a technique that felt right to him, after September 11 he stayed in the city for only two more months before practicalities forced his return to Dayton. He resumed dancing with the DCDC second company and the following fall Rodney returned to OU.
He says, "The technique I learned at Ailey was incredible, but now I found I could build on it and post-modern dance gave me a great sense of freedom." Rodney graduated from OU with a B.A. in Performing Arts in 2005, becoming the first African-American male to complete a dance degree at OU.
Rodney says, "At this point I really felt my goal was clear. I wanted to dance with DCDC's professional company." But to do that he thought he needed more technique. He also had an interest in choreography and Greg Patterson and other OU teachers encouraged him to apply to the University of Michigan's M.F.A. program as a means to fulfill both of those goals. Rodney completed his graduate work in 2007 as a Rackham Merit Scholar.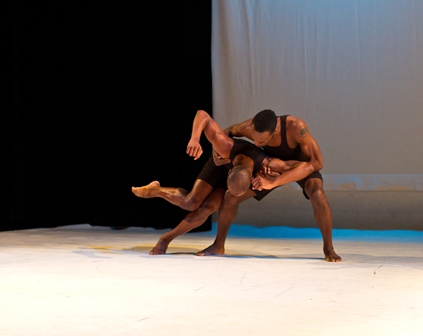 It was while at Michigan that he took classes about social advocacy and visited South Africa. He became active in the work to treat HIV/AIDS and found a new driving force for his creative work and his research. On World AIDS Day, 2011 his company, The Brown Dance Project, premiered a dance for the camera, entitled
the sound of a feeling
, commemorating the first reported cases of HIV/AIDS in the United States.
You can see that dance here.

After completing his M.F.A., Rodney realized his dream and joined DCDC. But he found he wanted more opportunities to explore his own choreographic work than being a member of a company afforded, and in 2009 he moved to Florida to become Artistic Director of Dance at Santa Fe College. In fall 2012, he joined the dance faculty of Ohio State, because he says, "It was an opportunity to extend my professional reach and work closer to home and family."
He remains committed to DCDC and says, "While many institutions have had a hand in shaping me, I would not be the artist I am without them. The company literally saved my life." He continues to work with them and his most recently choreography work was for the celebration of the career of Sheri "Sparkle" Williams, who has danced with
DCDC for 40 years
.
And so the would-be opera singer, turned dancer, turned choreographer, turned social activist, turned teacher, continues on his path. "I feel like I am playing a part for which I have no script," says Professor Rodney Brown. "No one who grew up in my community has this kind of role."
Claimed by the dance as a senior in high school, Rodney Brown continues his journey, free to imagine his own road and to make his way down it. Shored up by the discipline he learned early in his career, he now moves along it as he chooses, mentoring others as they join him, encouraging them to grow and play the role they discover for themselves, no matter what community they grew up in.
Photo

: Top:

Rodney A. Brown works with Dance students at the Kentucky Governors' School for the Arts.
Photo

by

Kevin Flores.
Bottom: The Brown Dance Project in Rodney A. Brown's "Loving Lloyd."

Dancers: Andre M. Zachery and Trent D. Williams Jr.

Photo: Tara-Lynne Pixley.
Rodney

B

rown's headshot by

Dale Gunnoe

.